The Keyword History Analysis Panel
The MerchantWords Keyword History Analysis Panel is an easy-to-read and compelling snapshot of any Amazon keyword. Our tool allows you to view one year of a keyword's search history and trends, the average product price, number of reviews, related keywords, and more.
To use the Keyword History Analysis Panel, simply click on the bar graph in the ACTIONS column.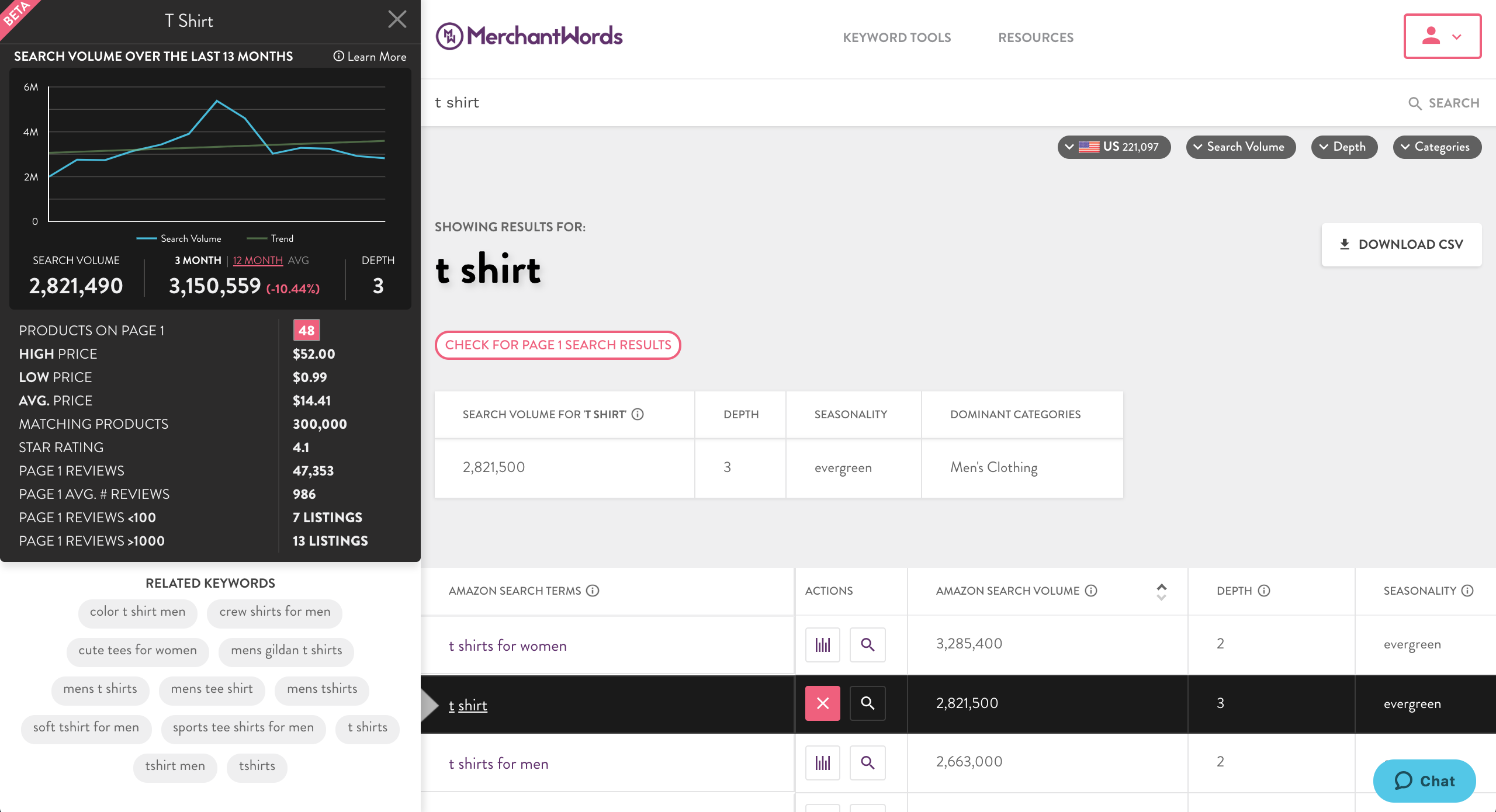 SEARCH HISTORY & TREND GRAPH
The blue line shows a keyword's search volume history over the past thirteen months. The green line represents the overall trend for the keyword.
SEARCH VOLUME
This number indicates the estimated monthly total of overall Amazon searches per keyword.
3 MONTH/12 MONTH AVG
The average searches for your chosen keyword over the past three months and the past twelve months, respectively. You can also see the percentage that the keyword or phrase has increased or decreased in the same time frame.
DEPTH
This indicates how many letters one must type into the Amazon search bar before it is populated by a suggested keyword or phrase. Keywords with a depth of 1 are likely to be very competitive and commonly searched. Keyword depth can vary based on search trends, algorithm changes, seasonality, and new product releases.

PRODUCTS ON PAGE 1
This metric indicates the current quantity of products available on page one of Amazon search results for this keyword. By clicking on this button you can view a list of these products by title, image, and key performance indicators. From there, you can perform a more detailed reverse ASIN search to reveal the top ranking keywords for each of your competitors.
HIGH/LOW/AVERAGE PRICE
Pricing your product correctly is a crucial part of launching a product and remaining competitive. Here you can find the highest price, lowest price, and the average price for all product listings on page one of the search results.
MATCHING PRODUCTS
This number represents the total number of product results currently available on Amazon for the selected keyword. It's can be a useful measure of the level of competition for a particular product when performing product research.
STAR RATING
The average star rating for all products on page one.
PAGE 1 REVIEWS
The total number of reviews for all the ASINs on the first page of Amazon's search results. At a glance, it can be used to gauge sales volume, the popularity of products listed under that keyword, and level of competition for that particular product
REVIEW DISTRIBUTION
This section compares the number of listings on the first page of Amazon search results with over 1000 reviews to the number of listings with under 100 reviews.
RELATED KEYWORDS
These are synonyms, alternate names, and complimentary phrases associated with a keyword term. These keywords can be used for listing optimization and pay-per-click (PPC) ads. Clicking on one will start a new search for that phrase. Don't limit yourself just to these terms! We recommend using them as a launch pad for your research.
FINAL NOTE: We're currently only offering supply-side metrics for Amazon US, but will be rolling this data out to other countries soon. Which country is next? Email us at [email protected] with your vote!
What Next?
Check out our full range of products and unlock the full potential of MerchantWords. Want to learn more about the power of MerchantWords? Take a look at these helpful links:
Getting Started
Optimization & Amazon SEO
Analyzing Performance
Researching Products
Advertising
Delving into Data Science
Taking Advantage of Amazon Disruption
We have a lot of great tutorials on YouTube and our blog is packed with tips to help you grow your business and achieve success. If you have further questions or comments, please reach out to us at [email protected] Have an awesome day!