KEYWORD EXPLORER
With Keyword Explorer, Amazon keyword research is quick and easy:
Analyze and edit while you search

Filter and refine the search results from ANY of our keyword tools

See the top seed terms and most relevant longtail phrases

Exclude irrelevant words and duplicate terms

Save, copy, or download only the keywords you need
Keyword Explorer is easy-to-use while searching in all of our keyword research tools: Classic Search, ASIN Plus, Emerging Trends, Page 1 Products, and Digital Shelf.
How does it work?
After you perform a search on MerchantWords, look for the "ACTIONS" button on any search table.

Then click on "Analyze This Page" from the dropdown menu to launch the Keyword Explorer editing tool.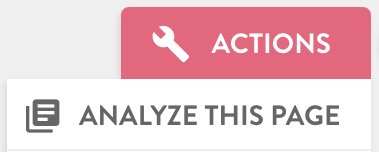 Once you click the button, Keyword Explorer scans the search results for any page. It analyzes the keywords and shows you the seed terms, top modifying terms, and longtail phrases ranked by count and strength.
When you first open the tool you will be in the Home view. In the example below, the user has searched for "sunglasses". In this view, you can see up to 100 Amazon keywords that contain "sunglasses" as well as the search volume for each.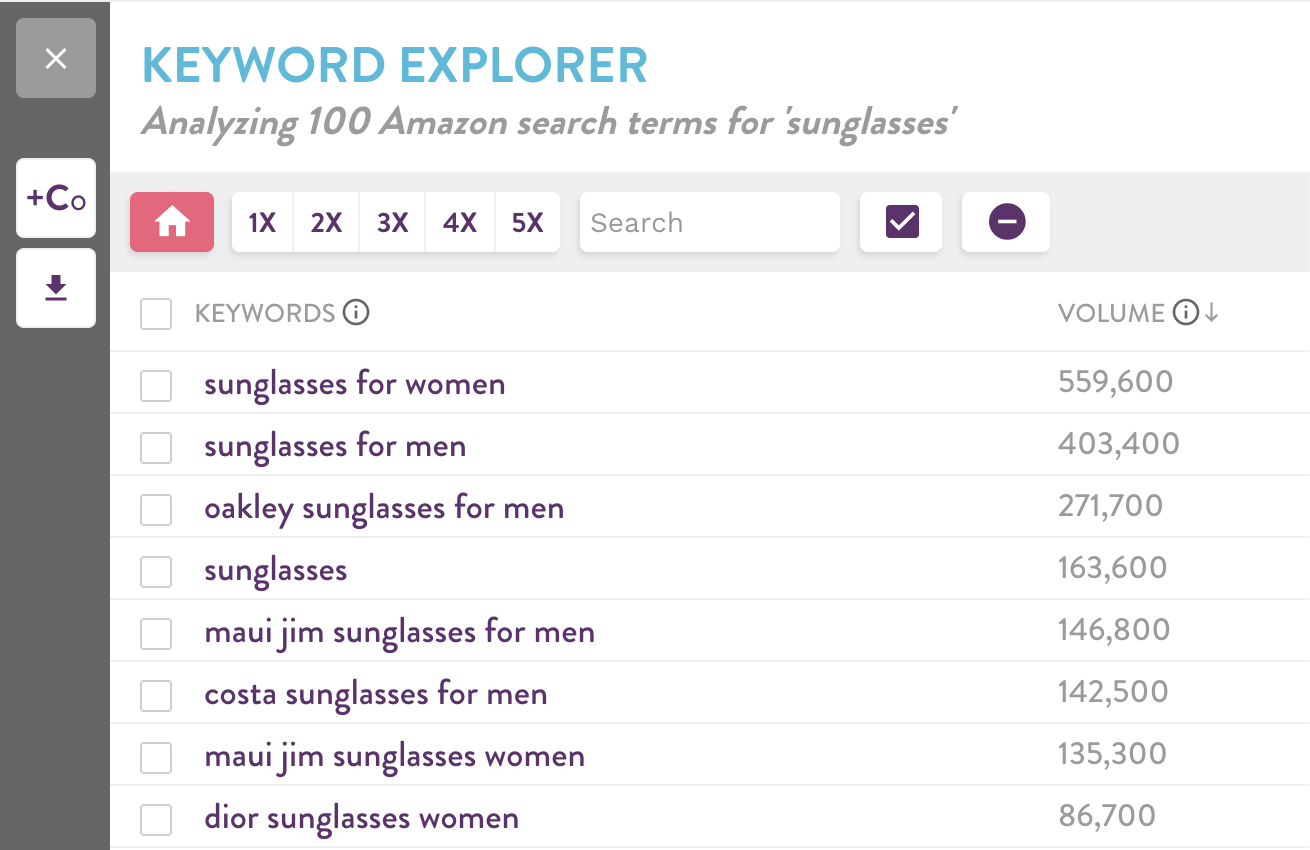 To drill further into your search results, click on the 1x, 2x, 3x, 4x, or 5x buttons.
1x displays all the one-word seed terms and modifiers

2x displays all adjacent two-word terms

3x displays all adjacent three-word terms

4x displays all adjacent four-word terms

5x displays all adjacent five-word terms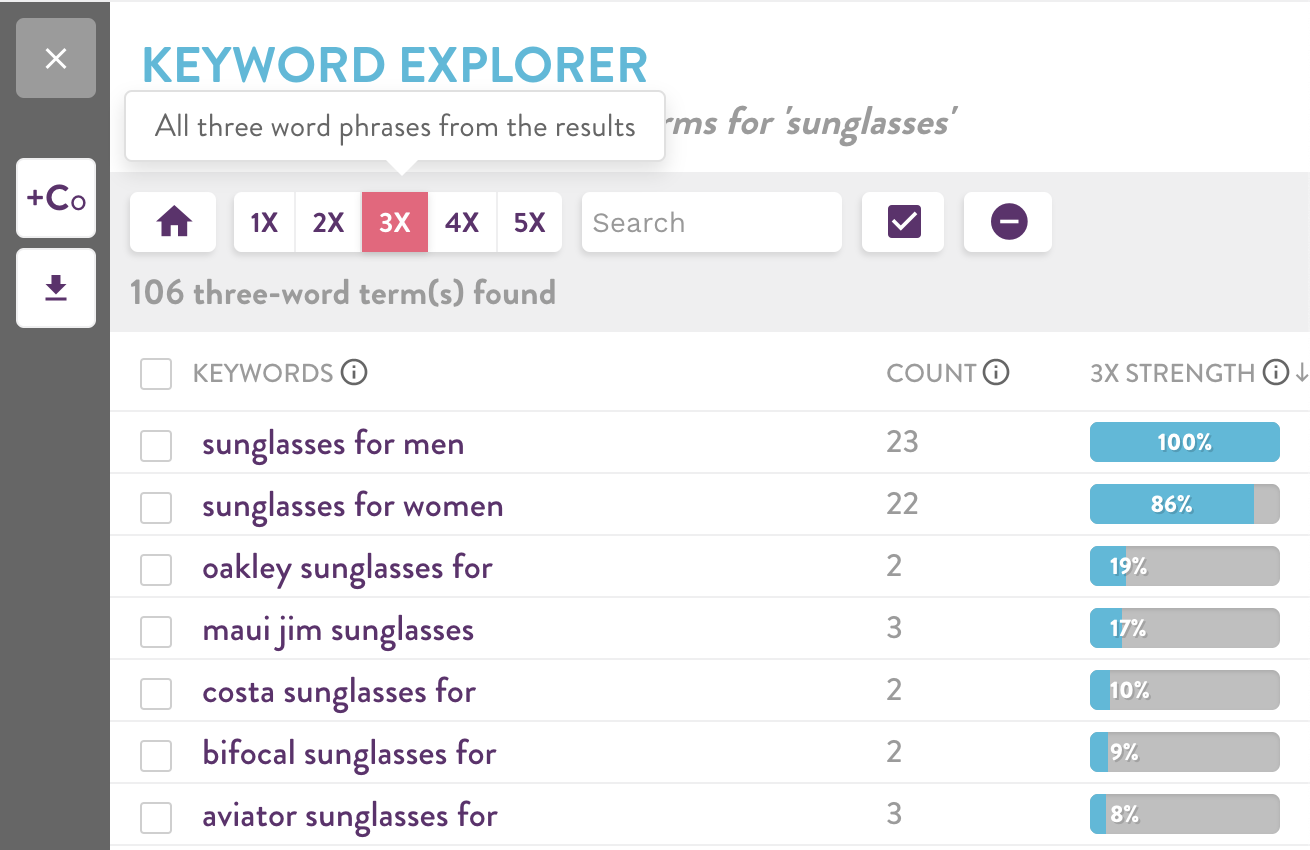 For each keyword, you can see the number of times it appears, as well as the strength of each word or phrase.
What is strength? Strength is calculated by multiplying the search volume for each word by the total number of appearances in the results. This metric tells you the overall impact of this word or phrase in the context of all 100 Amazon search terms being analyzed.
SEARCH
If you are looking for a particular term or phrase, type that word into the search bar within Keyword Explorer to see all the keywords that match your query.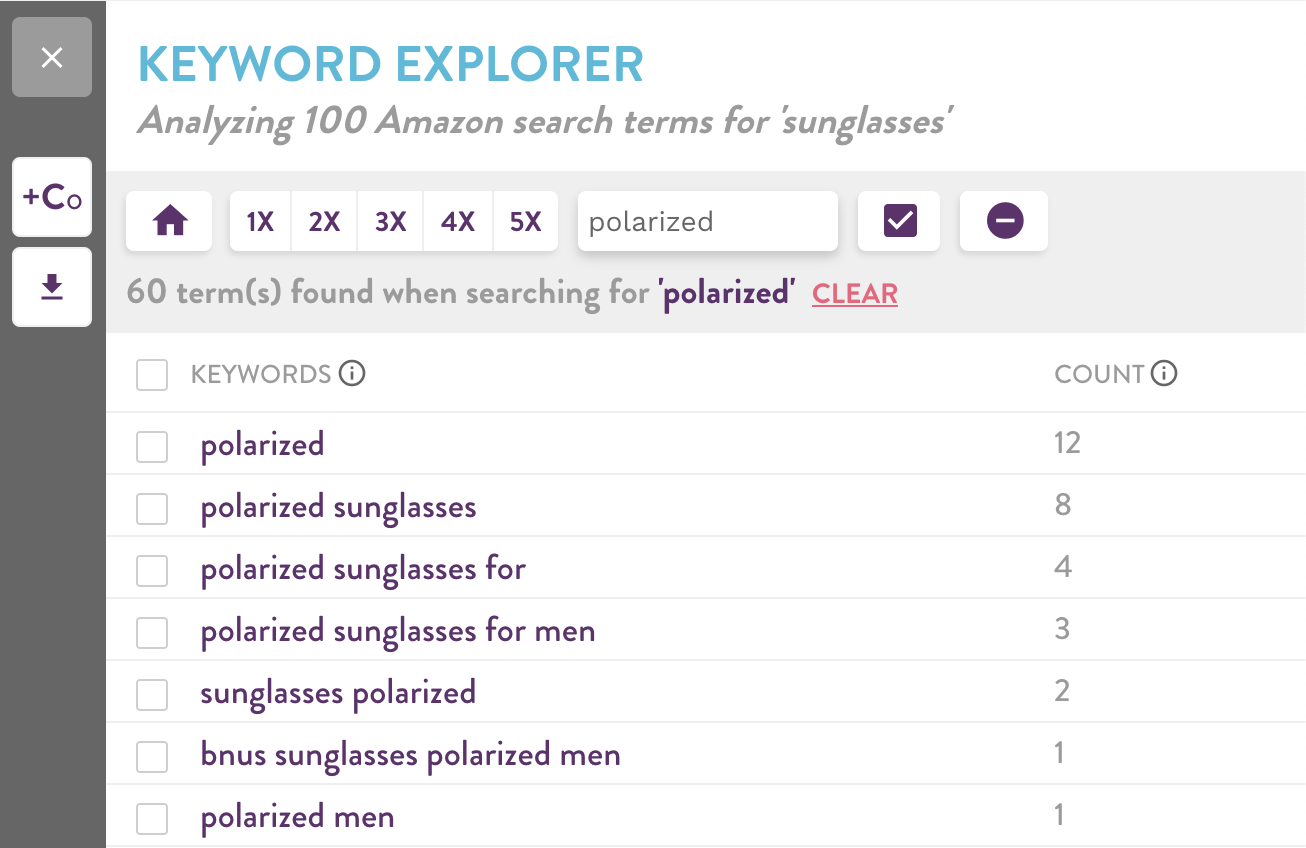 Pro-Tip: Click on any term that interests you to see the Amazon search terms that contain that phrase and the corresponding search volume.

Clear your search to return to the previous page.
SELECT
To save a keyword, select and check the box on the left of each term. See all the keywords you selected by clicking on the purple checkbox next to the search bar.
EXCLUDE
Want to remove brand names or irrelevant words or phrases? Just click on the exclude button - the purple circle with a minus symbol - to remove terms from your results.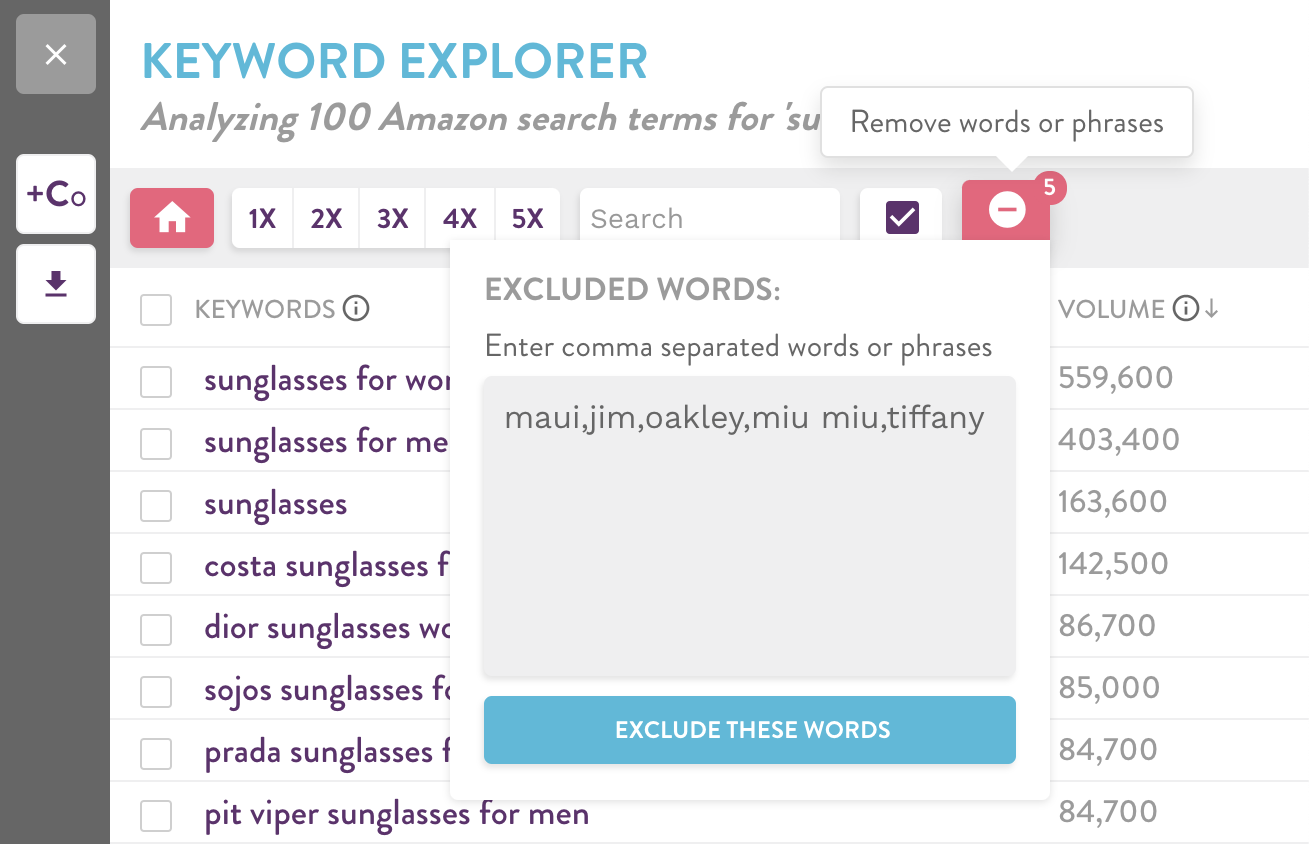 SAVE, DOWNLOAD, OR COPY
When it's time to wrap up your research you have three options:
SAVE keywords to a Collection to view search volume and track how the search volume changes from month-to-month

DOWNLOAD the keywords as a CSV for spreadsheet analysis

COPY the keywords to paste directly into Amazon

Questions? Click on the blue help button below or email [email protected]


Start your research with a diagnostic analysis of your product or a competitor. A Digital Shelf competition analysis report can help you understand market reach, how an ASIN ranks among others in its category, as well the top-ranking keywords it's indexed for – and ones that might be missing.