As society rapidly adapts to life in quarantine, changing consumer behavior is shifting the way we do business – maybe for months, maybe forever.
MerchantWords' data team pulled out a few search trends we're calling the good, the bad, and the ugly that show how Amazon US consumer demand is evolving post-COVID-19.

THE GOOD
When they can't go outside, couples have more interest in sex.
It looks like staying six feet from most people brings you six inches closer to others. Sexy search terms for both genders, such as "viagra pills for men" and "lingerie for women for sex play" have increased in volume fivefold. Meanwhile, searches for condoms decreased by 85%, suggesting singles are selecting fewer new partners or quarantined alone. And, we can expect a baby boom next year. 😉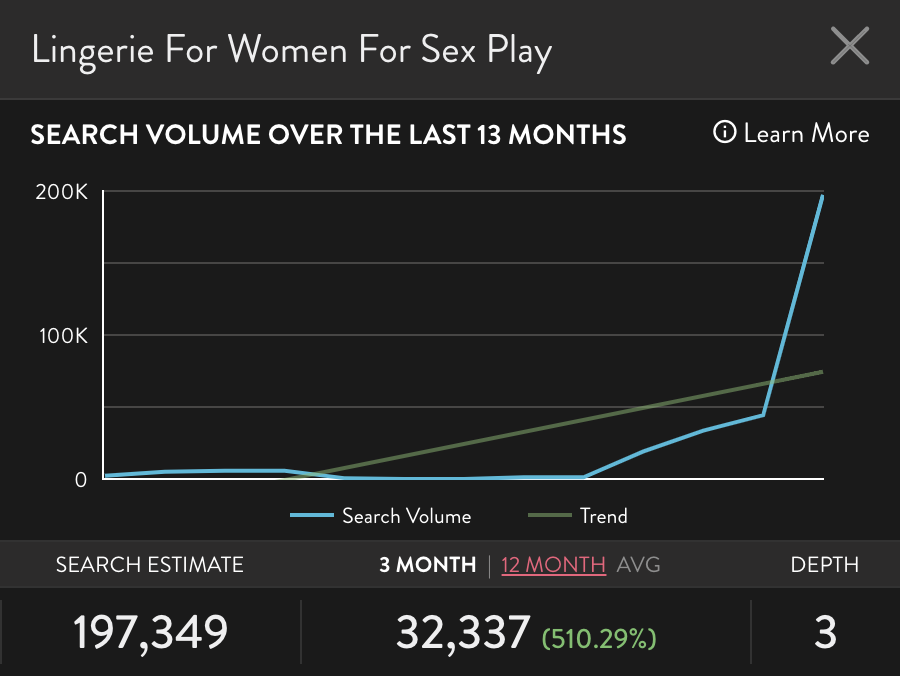 Sexual health products saw an increase in demand over the last few weeks.
THE BAD
Americans are stocking up on junk food and self-medicating.
Amazon's demand for "snacks" was up 810% this month, while searches for marijuana paraphernalia, such as, "bongs for smoking weed," increased by 318%. It is important to note that these products are typically restricted on the platform and sellers are very creative with their product descriptions to reach customers.
The increased demand for these items may explain why ramen noodles, American's favorite quarantine snack, rose ten times in popularity.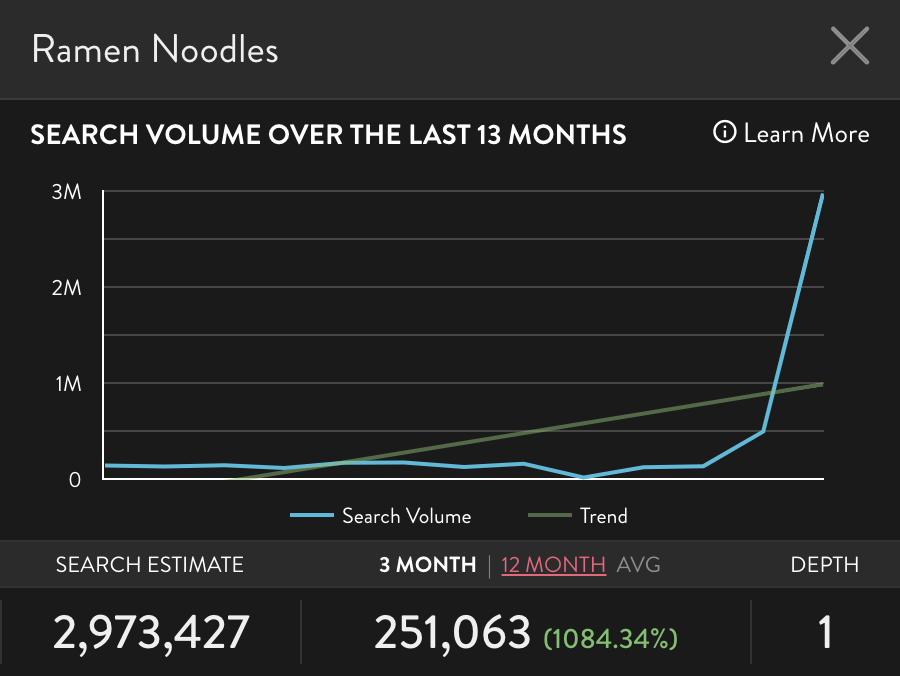 Searches for "ramen noodles" jumped astronomically from March to April.
THE UGLY
Because of national shortages, folks are DIY-ing their own supplies.
As the nation ran out of essentials, Amazon saw a rapid increase in demand for the ingredients used to make Coronavirus disinfectant staples like hand sanitizer. Searches for rubbing alcohol and aloe vera gel skyrocketed in popularity, with both terms receiving nearly ten times more traffic than the month prior.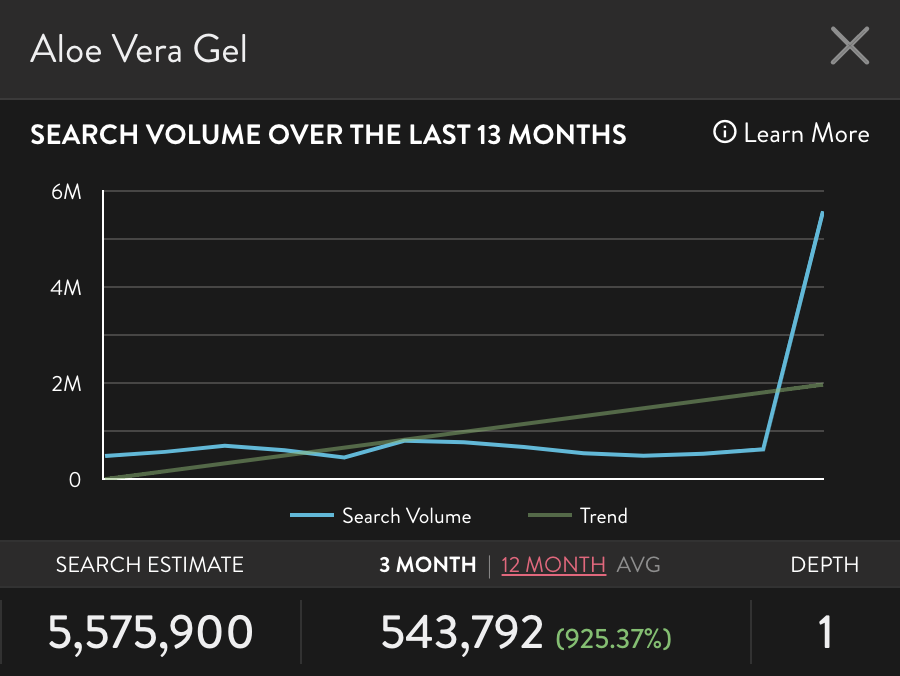 Amazon shopper search trends imply that consumers are making their own hand sanitizer from aloe vera gel and rubbing alcohol.
As price gouging and hoarding become the norm, it's no wonder that people are getting creative to secure essentials. However, as the pressure on our nation's health care and logistics infrastructure heighten, we hope that Americans can continue to get their basic needs met. Which brings us to toilet paper…
We learned those toilet paper shoppers won't settle for just anything.
Searches for toilet paper certainly rose this month, but only by 10%. Brand name toilet paper searches, on the other hand, increased from 1,000-19,500% depending on the brand. The preference for high-quality bath tissue proves once and for all that when sh*t hits the fan, our behinds want the good stuff.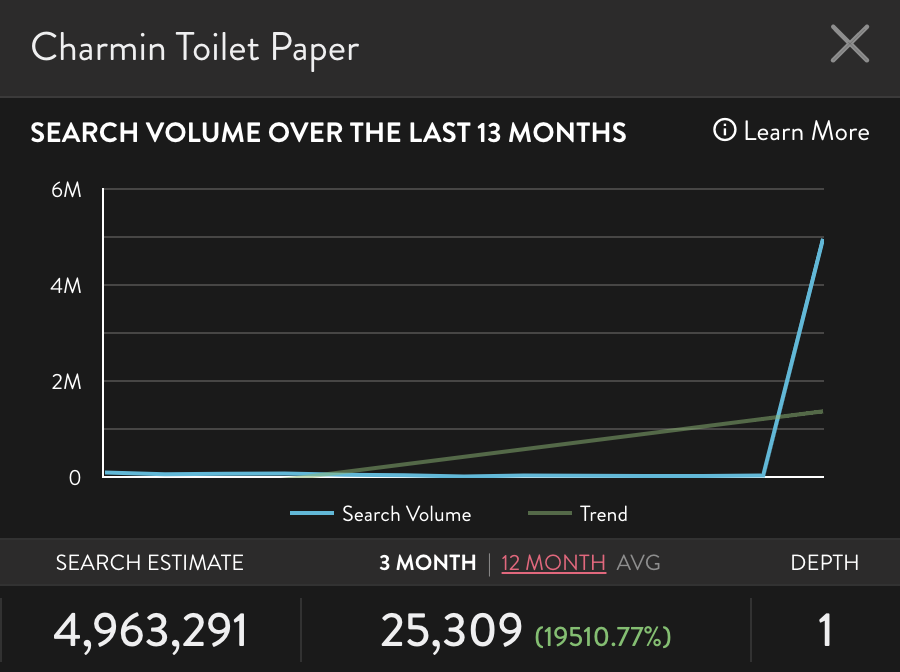 Amazon searches for toilet paper brands like Scott, Cottonelle, Quilted Northern, and Charmin increased 1,000-19,500 % this month.
The implications of such drastic changes in search behavior range from funny to concerning, but one thing rings true: the structure of society as we know it is changing.
In the course of four weeks, households have gathered the supplies needed to live a life at home, from workout equipment to office chairs. Humans love to socialize, and a virus won't take that away, but some say it only takes 21 days to form a habit. After you've purchased a new ab roller and a set of weights, will you want to spend as much money at the gym? After the boss outfits her home office with a standing desk and Bluetooth headset, will she have the same opinion about employees working remotely?
Consumer behavior has shifted to support living life exclusively online, making us wonder when we can all leave home, will we?
Stay healthy. Stay strong. We will get through this together.
---
DISCOVER, OPTIMIZE, AND GROW YOUR BUSINESS WITH MERCHANTWORDS.