Have you noticed a couple of changes to the MerchantWords lately? We've been busy finding ways for you to gain sales and a greater understanding of the Amazon marketplace. We're happy to share our latest update: The Keyword History Analysis Panel!
We invite you to sit back and take a few moments to get acquainted with the newest addition to the MerchantWords suite of tools. These new features provide you with consumer demand data to give you insights into shoppers' minds and the trends that can have a lasting impact on your brand.
What is the Amazon Keyword History Analysis Panel?
At a glance, you can quickly see whether a keyword is trending up or down and view either three or twelve months' worth of search volume. Because a keyword's popularity can change from month-to-month, we've included an overall trend guideline that shows whether a search term is gaining or losing momentum on the Amazon marketplace.
You'll also find data-driven demand metrics that can help with new product research, product pricing, listing optimization, and PPC campaigns to drive results for your brand. Get data on Amazon page one products, pricing, ratings, and reviews all in one place. Talk about efficiency!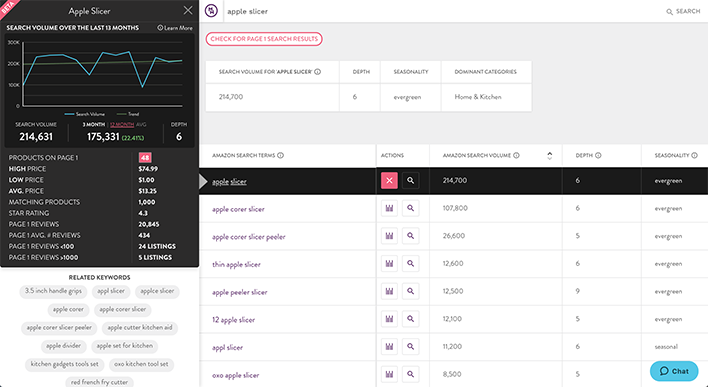 If you're looking for keyword suggestions, related keywords can provide more opportunities to be discovered by potential customers and indexed by Amazon's search algorithm. Find alternate spellings, new use cases, and other search terms that may be similar or complementary to your main keyword. And, you can do a more detailed search on each term by clicking on the keyword or phrase.
Now, it's cool to see product results, reviews, ratings, and related keywords in one place to gauge the competition for a certain keyword. And, yeah, knowing the average price of products can help to determine if you'll make a profit on a new product. But neither of those are the most exciting part.
The coolest and most exciting part is that these numbers are LIVE. When you ask MerchantWords for this information, we go directly to Amazon.com to get the most up-to-date and accurate information possible.
SEE KEYWORD HISTORY AND TRENDS NOW
Want to learn more about this new functionality? Read an in-depth description of the tool and the metrics in our MerchantWords Guide.

Continue to check back here and on our social media pages for more changes coming to MerchantWords. If you want to get in on the action early, sign up to be a beta tester!