THE LATEST FROM MERCHANTWORDS ON AMAZON SHIPMENT DELAYS

We've got good news and bad news...
THE BAD NEWS: As Amazon prioritizes the delivery of essential items in response to the COVID-19 pandemic hundreds of thousands of "non-essential" shipments are postponed, some as far out as June. With little notice about which products were sidelined, many merchants are dealing with unsatisfied customers and still scrambling to find out more about which of their products have extended delivery promises.
THE GOOD NEWS: MerchantWords has data you can use NOW. Our team analyzed a random sample of 16,000 US FBA products across 25 categories to get a glimpse into what products Amazon is prioritizing for delivery.
HERE'S WHAT WE LEARNED
Products in Home & Kitchen and Arts, Crafts, and Sewing appeared to be the least affected by quarantine policies. The average delivery time was no more than 5 days (not far from Amazon's standard shipping) for these products.
In a sample of 2,000 products from seemingly essential categories such as Grocery & Gourmet, Health & Household, and Baby we saw extended average delivery times of a week to nine days – some were delayed up to 5 weeks.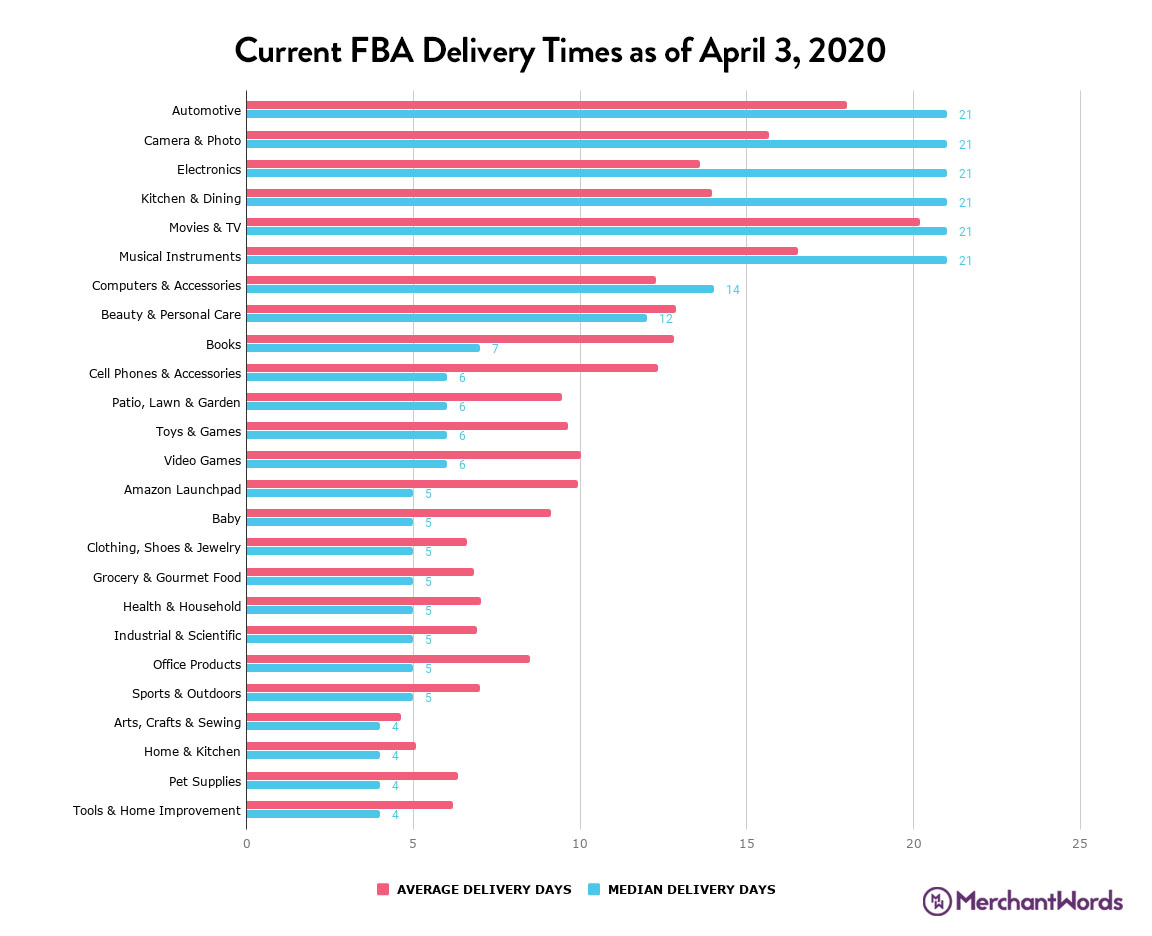 Following the surge in demand from COVID-19, Amazon prioritized the delivery of "essential items", delaying "non-essential" shipments up to two weeks. *Random sample of 16,000 US FBA ASINs as of April 3, 2020.


The products experiencing the most delays, on average, are Automotive, Camera & Photo, Electronics, Kitchen & Dining, Movies & TV, and Musical Instruments. In fact, the longest delivery time for products in these categories is up to seven weeks.
Businesses and households alike are looking for a new normal in the midst of a crisis. For example, one of the non-intuitive findings was that consumers are more likely to get painting sets on-time than baby formula.
Product Category

AVG.
DAYS


MED.
DAYS

MAX.
DAYS

Amazon Launchpad

10

5

21

Arts, Crafts & Sewing

5

4

21

Automotive

18

21

49

Baby

9

5

49

Beauty & Personal Care

13

12

50

Books

13

7

29

Camera & Photo

16

21

22

Cell Phones & Accessories

12

6

49

Clothing, Shoes & Jewelry

7

5

22

Computers & Accessories

12

14

22

Electronics

14

21

49

Grocery & Gourmet Food

7

5

31

Health & Household

7

5

49

Home & Kitchen

5

4

45

Industrial & Scientific

7

5

32

Kitchen & Dining

14

21

29

Movies & TV

20

21

25

Musical Instruments

17

21

44

Office Products

8

5

28

Patio, Lawn & Garden

9

6

28

Pet Supplies

6

4

49

Sports & Outdoors

7

5

33

Tools & Home Improvement

6

4

67

Toys & Games

10

6

29

Video Games

10

6

28
*Random sample of 16,000 US FBA ASINs as of April 3, 2020. Average, median, and maximum delivery days for products currently available for sale on Amazon.com.
While Amazon's definition of essential and non-essential still remains murky, try to keep calm, and pay attention to the data you have available.
MerchantWords created a FREE tool you can use now to check the real-time FBA delivery status for your US ASINs. Get answers to the most pressing questions you have about your US Fulfilled By Amazon (FBA) products. No more spot-checking, no more guesswork.
Is my product in stock?

How many days has this product been delayed?

What is the product's estimated delivery date?
Click here to receive a complimentary, current fulfillment status report on your ASINs.
---