October 15, 2020
Introducing MerchantWords' Amazon PPC Product Targeting Tool
Hey Amazon sellers!
We've got some exciting news just in time for the Q4 rush: We just launched our new Amazon PPC Product Targeting Tool!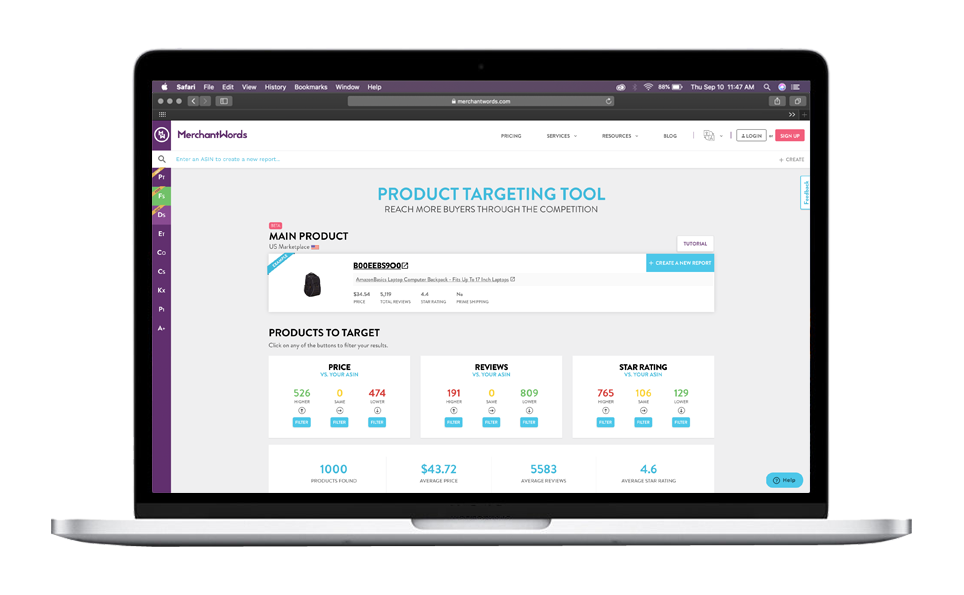 Whether you're a new seller or an experienced one, we all know how grueling and time-consuming it can be to market a product and advertise on Amazon. Traditional keyword-targeted Sponsored Product Amazon ads can be competitive, not to mention expensive. Unfortunately, it's pretty much a necessity in order to cut through the clutter if you're selling on Amazon. That's why many sellers have begun to also rely on product-targeted ad groups in their Amazon PPC advertising campaigns.
We've heard of many complex and convoluted ways to find the "right" products to target. Some Amazon experts offer 10, 12, or 14 step guides for successful product targeting. 14 STEPS?! Who has the time for that when you have to juggle all the other aspects of your business and personal life as well? That's what MerchantWords had in mind when we created the Product Targeting tool.
MerchantWords' latest tool is the easiest and fastest way to build a winning Amazon PPC Product Targeting advertising strategy.
Just enter your US or UK ASIN and within minutes find the most relevant competitors' Amazon listings to advertise on to increase your conversion rate.
Skip the painstaking, time-consuming research

See the top, most relevant products to target in one easy-to-use report

Save time and frustration

Increase your conversion rate
Oh, and we forgot to mention that it's totally FREE!
No subscription is necessary.
Non-subscribers can get up to 10 reports, but subscribers get a lot more search results with every request.
All active MerchantWords subscribers have access to at least 25 complimentary reports with their subscription.
The Silver Plan includes 25 reports per plan lifetime

The Gold Plan includes 100 reports per plan lifetime

The Platinum Plan includes 10,000 reports per plan lifetime
So what are you waiting for?
Take back your time! Get your first Amazon PPC Product Targeting Report NOW!
No other Amazon tool shows you PPC and SEO opportunities like MerchantWords. We help you identify market trends and determine the best way to connect with your customers.
---
DISCOVER, OPTIMIZE, AND GROW YOUR BUSINESS WITH MERCHANTWORDS.