How COVID-19 has affected search across four Amazon marketplaces

This month, a surprise happened as we were performing our regular checks before releasing the latest Amazon search data. Face masks – something that was showing up at the top of the search hierarchy for over a year – dropped to second place. In our world, dropping to second place from first means millions of eyeballs are now being diverted elsewhere. And so we dug in to see what happened...
We looked at four markets - the United States, United Kingdom, Australia, and Canada - to see how the Coronavirus pandemic affected top searches on Amazon over the past 16 months. There were a few categories that were of special interest, especially in the US, where the nationwide (and global) shutdown that began in March 2020, brought about big changes in the way that we work, where we buy our everyday home supplies, and a new interest in supplies to mitigate virus spread.
Methodology
Our team analyzed the top 25 keyword searches for each Amazon market for January 2020 through April 2021. We examined how the most popular searches evolved, especially surrounding terms related to home office products, household goods, and personal protective equipment (a.k.a. PPE). On average, each of these three categories can have zero or more keyword phrases in any given month.
For example, in the US in June 2020 four top-25 keyword phrases were related to PPE supplies: face mask, hand sanitizer, latex gloves, and face mask reusable. The search volume for these four keyword phrases was added together to give us a total top-25 search volume for this category in June 2020.
Amazon US
The COVID pandemic made a huge impact on search traffic on Amazon.com. PPE searches (face masks, hand sanitizer, etc.) were more dominant in the US than any other (English speaking) market.
The search engine result pages (SERPs) for "face mask" were transformed in 2020. Before March 2020, when a shopper searched for "face mask" on Amazon they were looking for cosmetic facial masks. By April 2020, keyword searches for "face mask" were strictly for protective face coverings to prevent the spread of COVID-19. "Face mask" has been a top 5 keyword phrase in the US market every month since June 2020, only to be beaten by "nintendo switch," "christmas tree," and "harry potter" for a few months during the holiday season.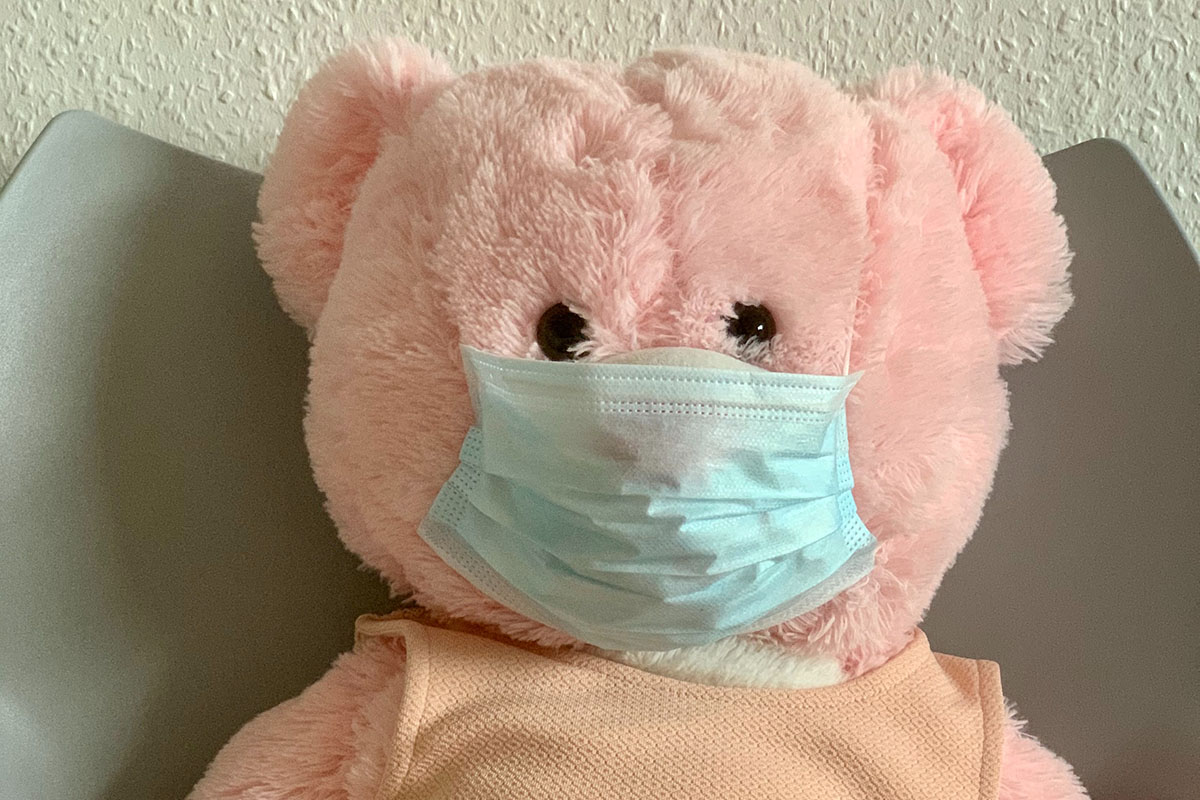 Searches for products in the Home Office category increased in popularity at the beginning of April 2020 as lockdowns were happening and office workers began working from home. There is another home office peak in September and early October. This peak might be attributable to a back-to-school spike and the realization that the pandemic was far from over.
Baby wipes made a top 25 appearance in April and May and then again in September and October of 2020.
"I remember when there was a huge run on almost everything at the stores and I REALLY didn't want to run out of baby wipes for my one-year-old (making homemade baby wipes wasn't really the kind of DIY project I felt up for) and I was definitely one of those people searching for baby wipes on Amazon."
- Sam, MerchantWords Data Scientist
Interestingly, "baking soda" was also a top 25 keyword in June and July of 2020. We have our suspicions that this could have been for a few reasons. Maybe people were desperate for cleaning supplies at the time when there wasn't a bleach container to be found at the local grocery store. There were also (false) rumors flying around the internet at the time that drinking hot water with lemon juice and baking soda could help protect against COVID-19. And, many people became avid bakers. Remember all the pictures of bread on Facebook and Instagram?!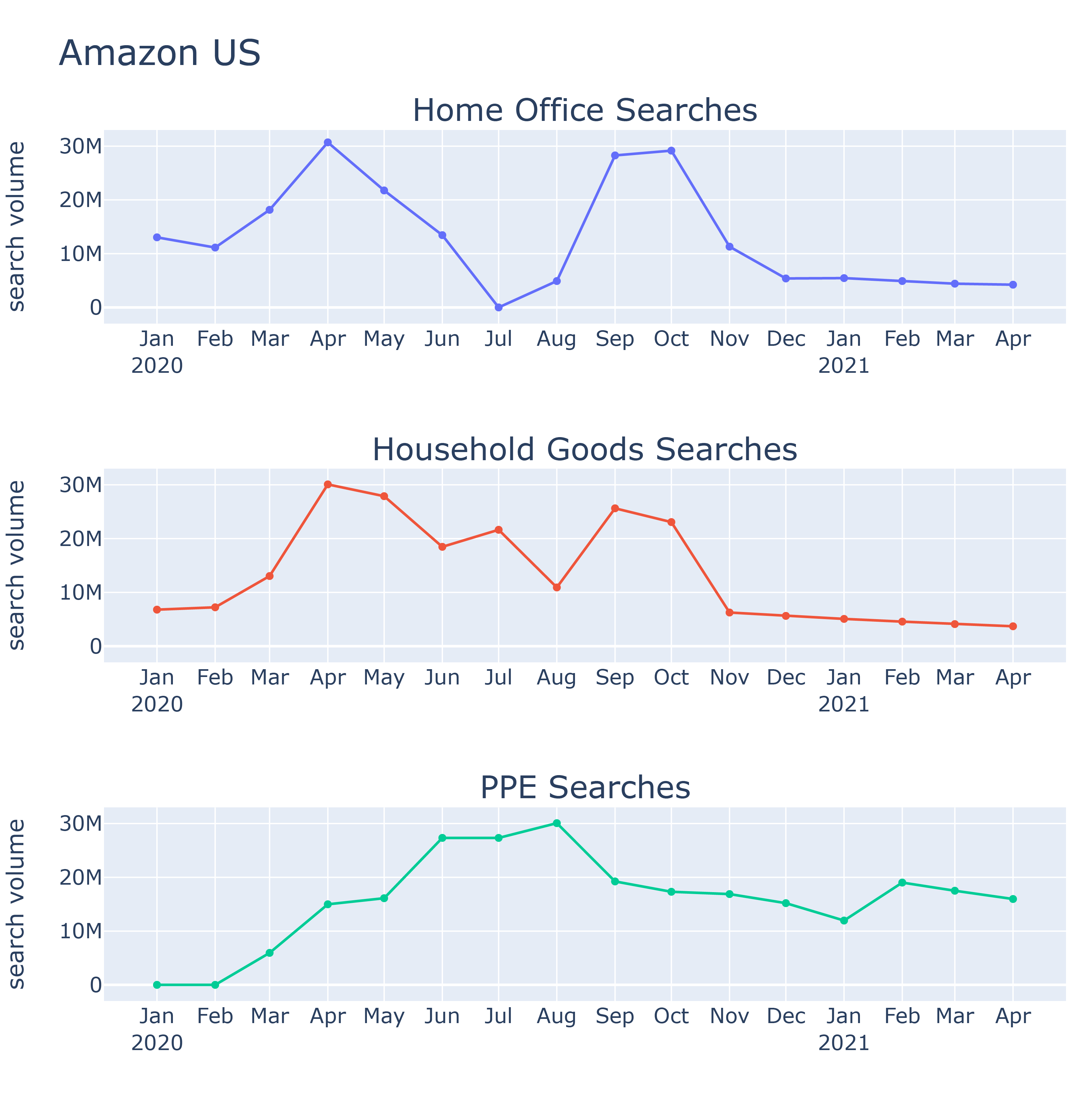 Top 25 Home Office Searches
laptop

wireless mouse

mousepad

desk

office chair

computer desk

computer monitor

laptop stand
Top 25 Household Goods Searches
toilet paper

laundry detergent

baby wipes

paper towels

baking soda
Top 25 PPE Searches
face mask (when "face mask" was for protective masks not cosmetic face masks)

hand sanitizer

latex gloves

face mask reusable

face mask for virus protection

black disposable face mask
Amazon UK
Over the past sixteen months, searches for household goods are not nearly as popular in the UK market as they are in the US market. There were only two household goods that made the list in the UK: "food" and "toilet roll."

The top home office searches were mostly for computer-related products and not office furniture like "desk" or "office chair" in the US. That's not to say that people didn't buy those things from Amazon in the UK, but in the US there was much higher demand.
Of the three categories we reviewed, the PPE category was the most popular in the UK. "Vitamin C" never topped the charts in the US market, and, interestingly, people searched for "washable face masks uk only." There was a second peak of searches for these products in early August 2020. That month the top phrases included "hand sanitiser dispenser," "hand sanitiser gel," "washable face masks uk only," "face masks washable uk," and "washable face mask." At this time there was a decrease in the number of UK COVID cases, so perhaps these shoppers were getting supplies for back-to-school?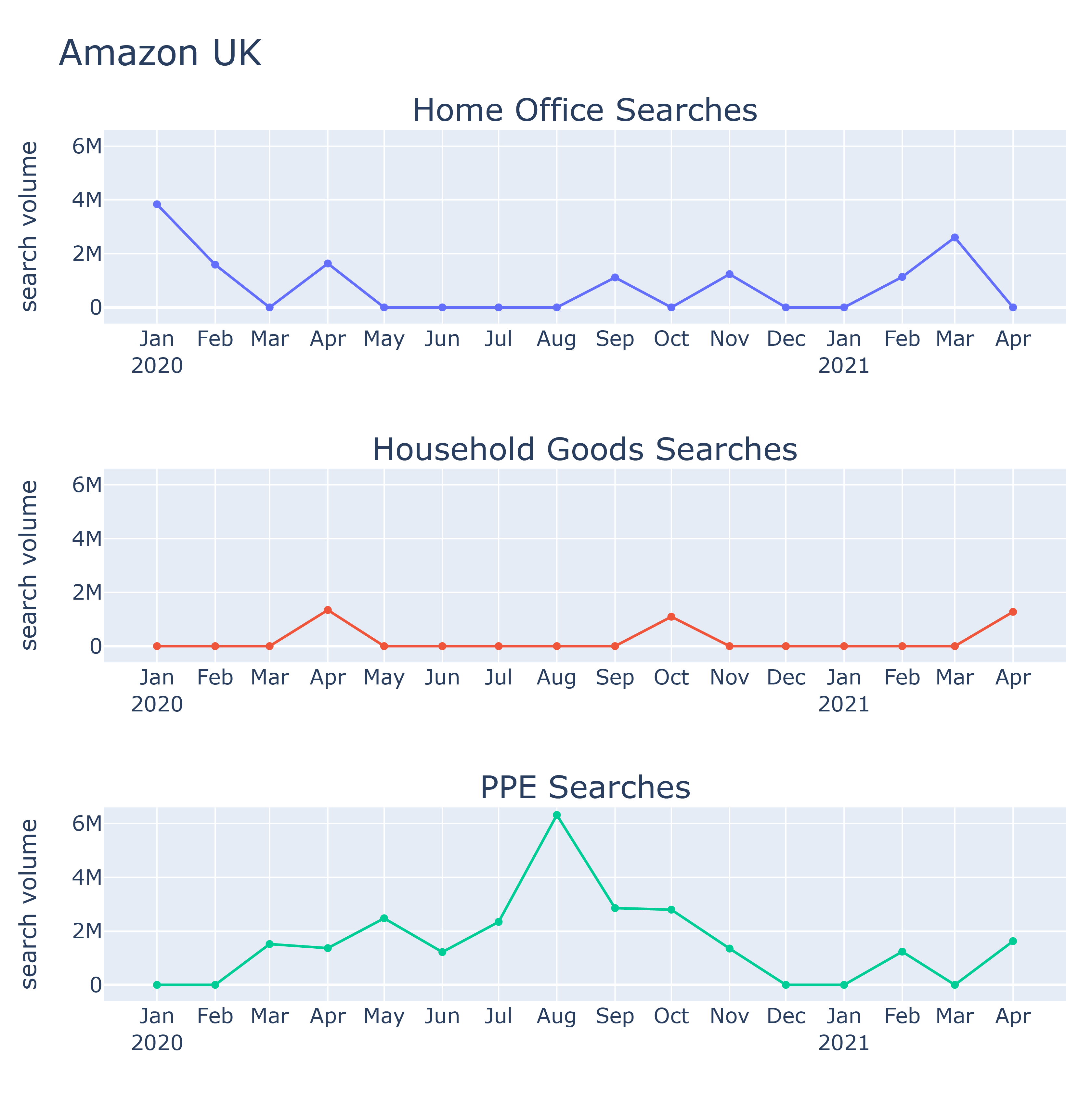 Top 25 Home Office Searches
wireless keyboard and mouse uk

wireless mouse for laptop

wireless keyboard and mouse

mouse

laptop

macbook pro
Top 25 Household Goods Searches
Top 25 PPE Searches
vitamin c

face masks

hand sanitiser gel

hand sanitiser dispenser

washable face masks uk only

face masks washable uk

washable face mask
We couldn't help but notice some other interesting trends in the top 25 keyword phrases looking through the data. One thing we noticed is that people really like to buy chocolate on Amazon UK. It made the top 25 every month from March 2020 onward! Maybe it's because chocolate is actually really good in the UK, or maybe it's a favorite coping strategy amongst buyers there. (Or, maybe it's a favorite add-on so an order surpasses a certain price threshold for getting free shipping.)
"Carbon monoxide detector" showed up in the top 25 more often than expected, and actually in March 2021 it was the number one searched for phrase in the Amazon UK market. This may have something to do with the Scottish Government passing legislation that requires carbon monoxide detectors where there is a fuel-burning appliance or a flue. Originally that law was to come into effect by February 2021 but has been pushed back to February 2022 due to the pandemic.
Shoppers were looking for hair-cutting supplies in the UK more often than in other markets. Search terms for this category are "hairdressing scissors" and "hair clippers men." There was a real increase in these searches a few months into the pandemic and then there was another bump just recently in February, March, and April of 2021.
The last common thread we found looking at the top 25 keyword phrases over the last 16 months is that buyers in the UK often go to Amazon for gift ideas: "gift"- related searches made the top 25 keyword phrases every month.
These searches include "gift card," "valentines gift for her," "valentines gift for him," "harry potter gifts," "40th birthday gifts for women," "40th birthday gifts for men," "50th birthday gifts for women," "60th birthday gifts for women," "gifts for women," "gifts for men," "gift card amazon uk," "gift vouchers amazon uk," "mothers day gifts," and "mothers day gifts for mum." The phrase "40th birthday gifts for women" actually appeared in the top 25 in seven consecutive months between April 2020 and October 2020.
Apparently, lots of people in the UK don't know what to buy women for their birthday when they turn 40. Also of note, there was a big Valentine's Day spike in February 2020 (early March 2020), but there wasn't a repeat spike in February 2021. In fact, there weren't any "valentines gift" searches in the top 25 in February 2021. People were buying their loved ones gifts from Amazon during the initial COVID shutdowns but didn't seem to do that as much a year later when traditional brick and mortar shops started to open up again.
Amazon Australia
Except for three months, "laptop stand" made the top 25 almost every month. In April 2020, there was a huge surge in the number of laundry detergent-related searches: "laundry detergent," "washing powder," and "laundry liquid" all made the top 25 keyword list. Interestingly, face masks were only a top 25 phrase in August 2020, while "hand sanitiser"-related searches made the top 25 in April through July.
Shoppers in UK and US had much more interest on Amazon in the PPE category than Australia. Perhaps this is because around the beginning of October 2020 Australia had its COVID numbers pretty well under control.

Overall, the popularity of home office and household goods searches is more similar to the US than to the UK.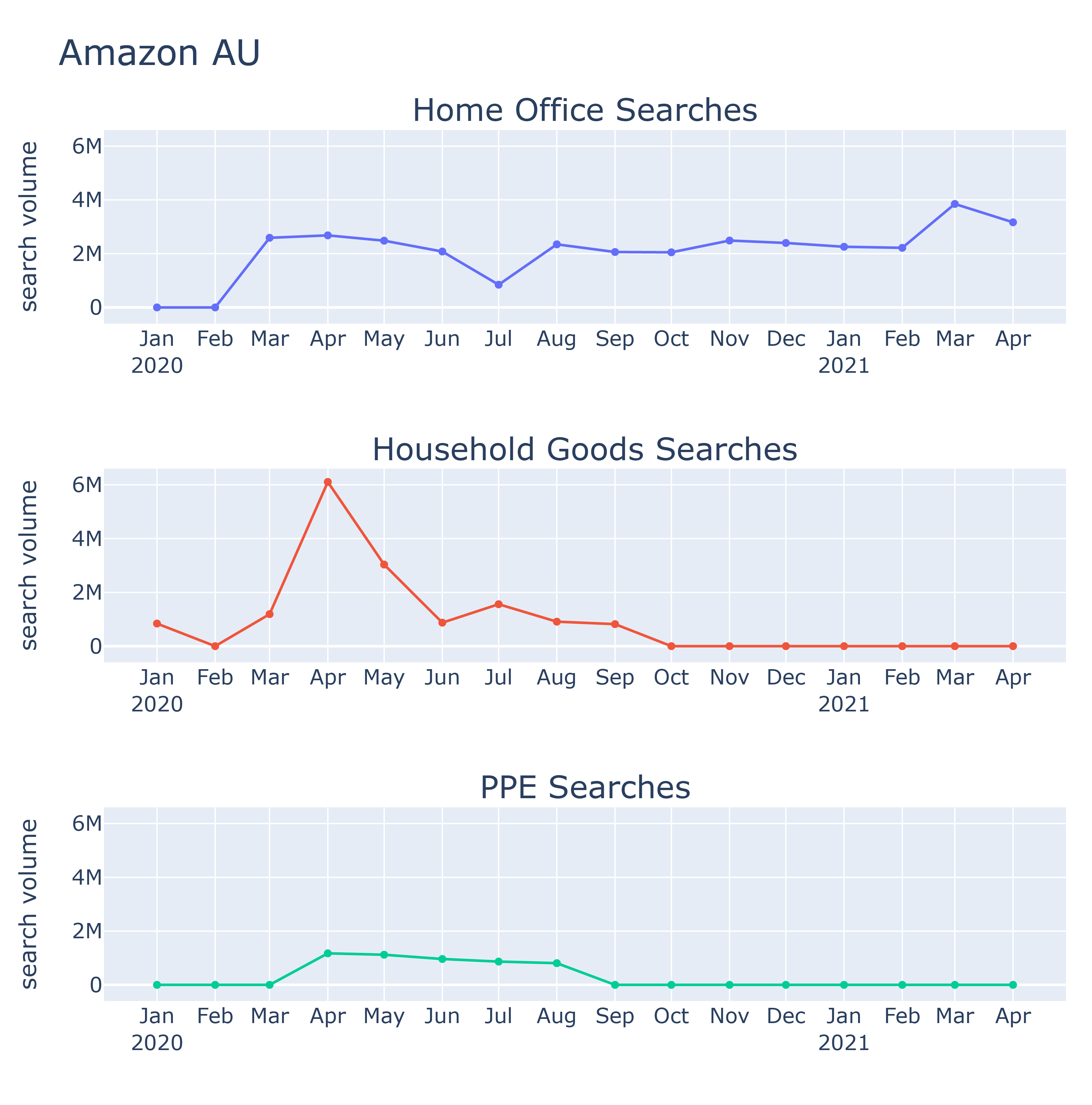 Top 25 Home Office Searches
laptop stand

wireless mouse

macbook pro

mechanical keyboard

wireless keyboard

keyboard
Top 25 Household Goods Searches
baby wipes

laundry detergent

toilet paper

washing powder

laundry liquid
Top 25 PPE Searches
hand sanitizer (April - July)

face mask (August)
Amazon Canada
It's interesting how just across the border from the US, search volume and search patterns can be so different. Searches for face masks never topped the charts in Canada, while "face mask" has been a top-tier search term in the US for months. Along with the US, and AU markets, laundry detergent was a popular search term for almost all of 2020. Home office searches have actually increased over the course of the pandemic only to be pushed out by "christmas tree" searches in December.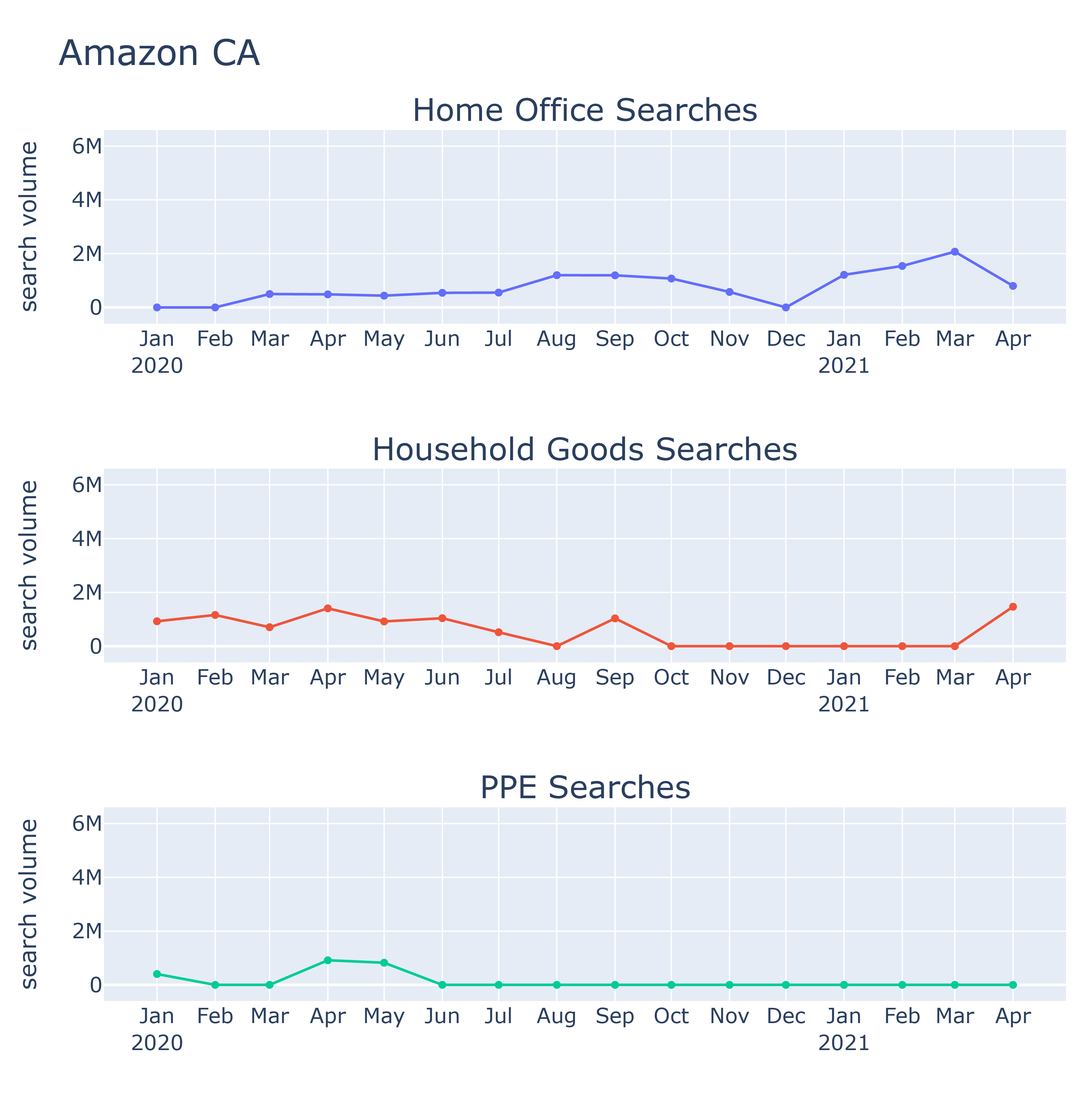 Top 25 Home Office Searches
office chair

desk

wireless mouse
Top 25 Household Goods Searches
laundry detergent

apple cider vinegar

laundry detergent liquid

peanut butter

coffee

food
Top 25 PPE Searches
Two other search trends in Canada caught our attention. The first is pet supplies. Pet supplies was a much more popular search category in 2020 than home office searches, household goods searches, or PPE searches. The search terms for this category included "cat food," "dog treats," "dog food," "cat litter," "dog bed," and "dog harness." The top 25 searches early on in the pandemic were mostly for the consumable pet products: "cat food," "dog treats," "cat litter," and "dog food". The recent spike is from searches for "dog harness" and "dog treats." The weather is starting to warm up (does that ever happen in Canada?) and people are getting ready for some outside time with their furry friends.
Another "hot" trend in Canada is "instant pot"-related searches. The keyword "instant pot" or "instant pot accessories" made the top 25 list in Canada nearly every month. The instant pot searches take a bit of a dip in the summer months, but there is some pretty strong pressure to buy them during the winter. So many good instant pot puns… 😆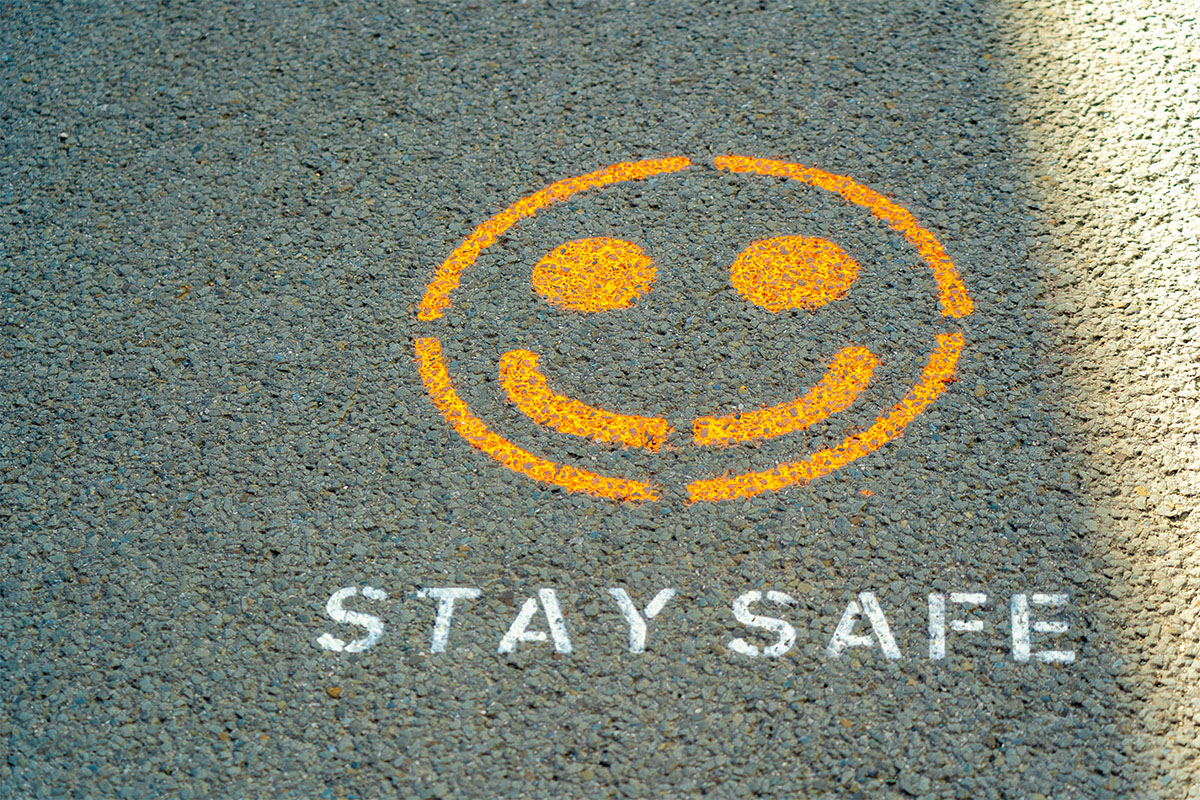 Conclusion
All of these markets were impacted by the COVID-19 pandemic in one way or another, but not all in the same way. To sell your product internationally, you need to thoroughly understand your market. MerchantWords give you access to keyword search volume and product data for 11 markets so you can make your product an international hit!
---
DISCOVER, OPTIMIZE, AND GROW YOUR BUSINESS WITH MERCHANTWORDS

---
Get access to more than five years of Amazon search trends. Find out more about MerchantWords Amazon API.