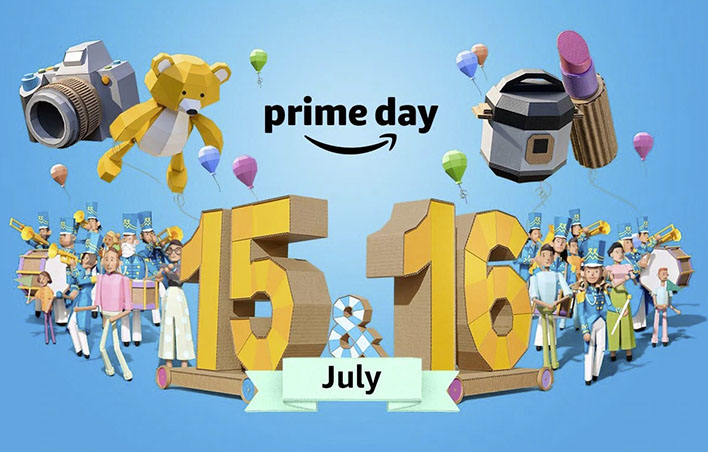 One of the biggest shopping days of the year is officially behind us. This year, Prime Day took place July 15-16 and brought Prime Members to Amazon's sites in droves. Throughout the shopping event, we monitored shopper searches to inform Amazon sellers on customer behavior. Here's what we discovered for Prime Day 2019.
Searches Increased But Didn't Skyrocket
Due to an increase in traffic to the site, shopper searches increased across the board. As they say, a rising tide lifts all boats. Most keywords saw a rise in search volumes due to the number of people perusing their options on Amazon. There wasn't one product that stood out, like last year's Instant Pot. Of course, some searches increased more than others. Here are the searches that rose the most over the two days.
Toilet Paper

Passport (and related accessories)

T-shirts

Blu ray

iPhone XR

Gift card
Most Searched Category: Electronics
Most shoppers focused on getting discounts on electronics, which had the highest searches of all categories on Amazon. In June, Home and Kitchen held that honor. Within the Electronics category, the top five Prime Day searches were:
Wireless earbuds

HDMI cable

Apple watch

Wireless mouse

Laptop
What We Learned
Due to the nature of Prime Day and the data we collected, we don't believe searches are at the heart of finding success during this annual shopping event. During Prime Day, Amazon prominently displays lightning deals and other sales on a dedicated landing page.
This Prime Day page draws in the most customers. Here, they are free to scroll through current deals as well as peruse future sales. As lightning deals occur, the page updates and Amazon shows customers new products. Amazon's algorithm may tailor the first deals a customer sees based on their previous searches and products they have purchased.
If you aren't lucky enough to be selected to participate in a lightning deal, this begs the question, what can you do to succeed next Prime Day?
Important Updates to Sparkle on a SERP
We saw that more people were scrolling through the search results page (SERP) to view the coupons and products on sale on Prime Day than a typical day. Therefore, it's more important than ever to make sure each element of your listing that appears on the search results page is updated and the highest of quality.
Pictures
With more people scrolling through results rather than immediately selecting a product, be sure to invest in high-quality product photography. Your photographs should accurately display your product in a way that draws in customers, making them more likely to make a purchase.
Titles
Titles allow customers to know what your product is without any additional research. Make sure to include broad, top-of-the-funnel, relevant keywords that instantly communicate with potential customers.
Prices
On a big sales day, prices are more important than ever! Customers expect to receive a great deal or discount. The best way to determine how you should price your product is to look at your competitors and make yours just a little lower around Prime Day. If your product is priced too high, then shoppers will look elsewhere to find a price that meets their expectations.
Coupons
You can either run a lightning deal or a coupon. When deciding on which type of discount you want to offer and how much it should be for, look at other Amazon sellers within your space. By providing the same kind of deal, you make it easier for shoppers to compare. And, as long as you're making money, we recommend setting your discount slightly higher than your competitors.
Run Effective PPC Campaigns
Running an effective PPC campaign during Prime Day is no small undertaking. You should be preparing and optimizing your campaigns at least a month in advance. This preparation gives you time to discover the keywords that work the hardest for you, and which ones don't work at all.
When it comes time for the big day, increase your bids for your main keywords and your daily budget. The best way to ensure customers consistently see your ad is to double both your budget and bids. However, you still need to check in on your campaign throughout the day to make sure it's still running. You should also manually search your main keywords on Amazon every hour on Prime Day to ensure you are consistently ranking at the top of page one.
Advertise Your Deals
You can have the best deal on Amazon, but if no one knows about it, you're out of luck! To avoid this, make sure to advertise off Amazon in addition to your PPC campaigns. Use social media and your email list to guarantee your customer base is aware of the upcoming sale. You can even run ad campaigns on social, encouraging people to shop during Prime Day!
That's a Wrap
Now that the craziness of Prime Day is over, we encourage all Amazon sellers to take a deep breath and pat yourselves on the back. You made it! Take a well-deserved moment to yourself. But not too long – the fourth quarter is coming up, and we're ready to help you make it successful.