Wondering who the "top brands" on Amazon really are? And who consistently ranks on page one?
The MerchantWords data science team reviewed and analyzed all Amazon US keywords from January to June this year. Here are the top brands on Amazon based on the aggregated search volume for the total number of keyword phrases ranking a brand on the first page of Amazon's search results.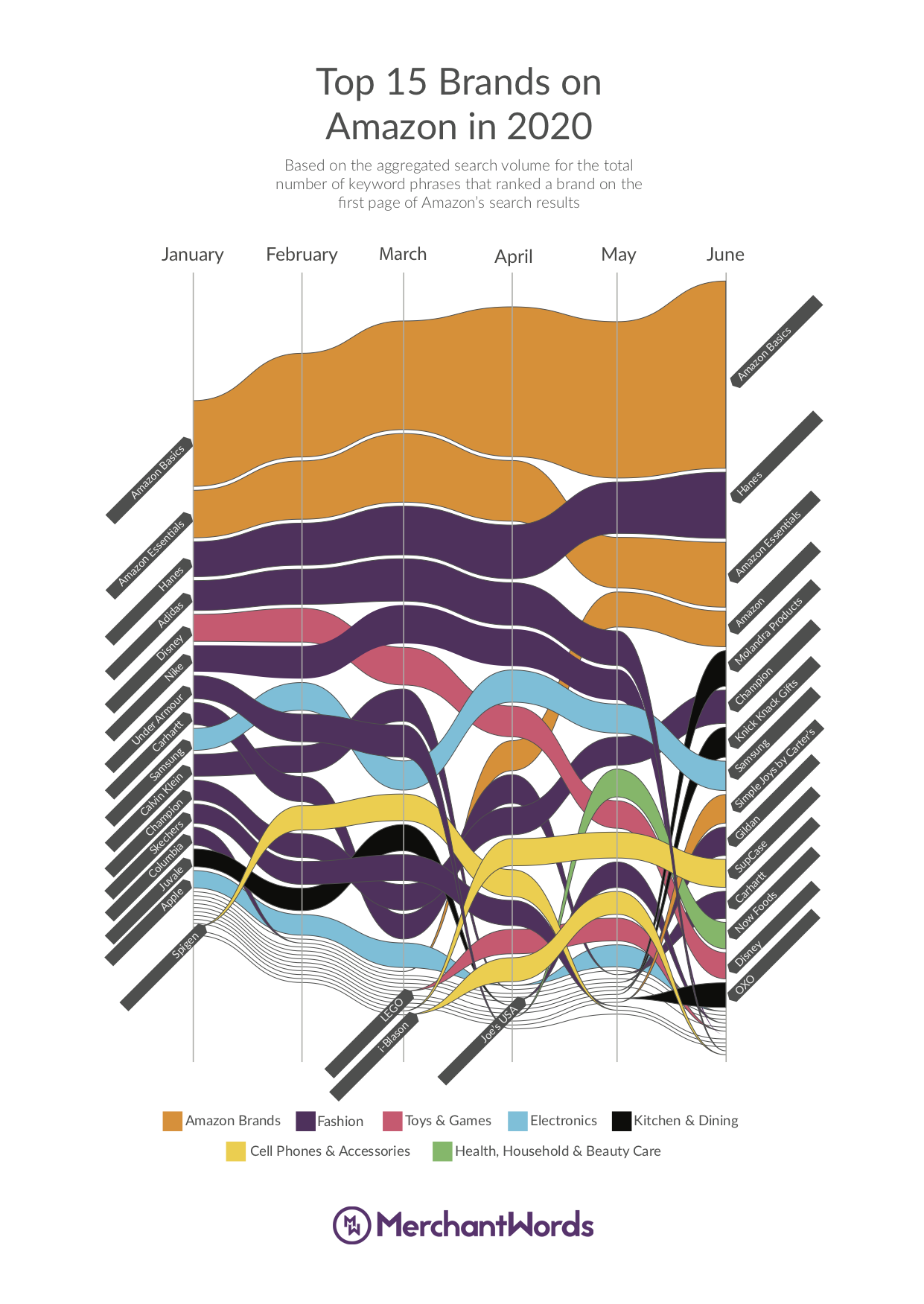 Some Amazon brands have seen a significant uptick in their rankings
AMAZON
Shoppers are searching for Fire Sticks, Kindles, and Alexas and maybe using their time at home to upgrade their in-home access to digital content. (Several MerchantWords team members purchased Kindles during quarantine because they love to read but couldn't visit their local libraries.)
AMAZON BASICS
AmazonBasics has a very wide variety of high search volume keyword phrases that rank it at the top of the search results (no surprise here). Among these terms are wireless mouse, shower curtain, curtain rod, printer paper, iPhone charger, dog bed, Keurig coffee maker, Xbox One controller, etc. It's almost like Amazon knows which keyword phrases are super high ranking... 🤔
HANES
This surprised us the most. They're actively competing and winning against Amazon's dominant clothing brand: Amazon Essentials. Hanes and Amazon Essentials have about 775,000 shared keyword phrases that rank both brands on page one.
AMAZON ESSENTIALS
They're still at the top of search but have quite a few competitors including some Amazon brands: Hanes, Champion, Gildan, Goodthreads (an Amazon brand), Simple Joys by Carter's (an Amazon brand), Fruit of the Loom, Carhartt, Daily Ritual (an Amazon brand), and Columbia.
The categories of the top 15 brands have changed in the last six months
Back in January, the top fifteen was mainly composed of fashion brands. Now, it's more of a mixed bag.
MOLANDRA PRODUCTS and KNICK KNACK GIFTS sell mugs and water bottles printed with a variety of unusual text and phrases. Of all of the brands included in the visualization above, they had the largest number of product (ASIN) appearances on page one.
Molandra Products had about 1.2 million ASIN appearances. Knick Knack Gifts had more than 800,000 ASIN appearances. For a sense of scale, Hanes has close to 27,000 ASIN appearances.
Wondering how or what to sell next on Amazon? Take a look at the list of the top 100 brands by search in June.
Get access to more than five years of Amazon search trends. Find out more about MerchantWords Amazon API.
---
DISCOVER, OPTIMIZE, AND GROW YOUR BUSINESS WITH MERCHANTWORDS.