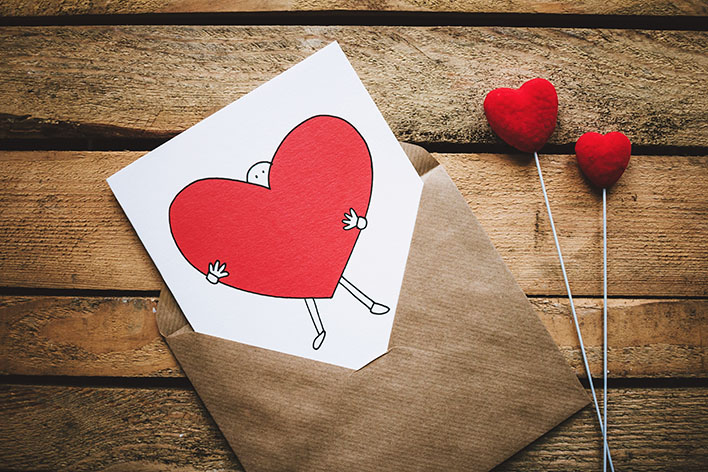 Valentine's Day is known to produce a certain amount of anxiety. Some folks can't find the right gift for their special someone, others lament their lack of a partner, and then there are those with way too many Valentines.
MerchantWords is in the business of easing anxiety, so we won't be asking why you haven't settled down or when you're planning to have children. This Valentine's Day, our present to you is five tips for maximizing the explosion of gift-giving love on Amazon.
TIP #1: Provide quick shipping.
Valentine's Day tends to be a last-minute holiday, with related searches rocketing up in February. This gives customers only fourteen days to shop. Cutting it even closer, 40% of shoppers will make their purchase the week of Valentine's Day.
To help customers that are cutting their deadline a little close, we recommend providing a quick shipping option. Selling products through Fulfillment by Amazon and taking advantage of their two-day shipping can help you bring in last-minute traffic.
If you're fulfilling products yourself, make sure you have accurate shipping times available and update your listing to let shoppers know if your product can be delivered by the holiday. Check Seller Central daily to ensure that you're up-to-date on all product shipments.
TIP #2: Optimize the romance.
You don't have to be selling jewelry, chocolate, or flowers to capitalize on the influx of shoppers in early February. Adding new keywords to your product listing is a great way to increase your listing traffic. While your title should contain evergreen, highly relevant keywords, the other parts of your listing can be updated frequently, especially close to a holiday.
Inserting phrases like, "Valentine," "Valentine's Day," "gift," and "present" can help index your listing for new searches. Consider adding an updated bullet point in your product features that highlights the romantic aspects of your gift! Keep in mind that "gifts for women" are generally searched for more often on Amazon than "gifts for men."
If you can, consider bundling existing products into gift sets for this holiday. This separates your listing from the crowded market and extends the keyword options for your listing. More keywords mean more impressions, which lead to more sales. Plus, who doesn't love a carefully curated gift set?
Use the MerchantWords database to find the most up-to-date top-of-the-funnel and long tail keywords to get your product on the first page of search results. Research keywords that are relevant to your product and Valentine's Day. Incorporating both will produce the best results.

TIP #3: Update your pictures.
Customers rely heavily on visuals when choosing a Valentine's Day gift. Adding an additional photo or two with a romantic undertone can encourage your customers to consider it as a Valentine's Day option.
It can be as simple as adding red and pink ribbons to a standard product photo. You could even add props like roses, strawberries, or champagne to lifestyle photography to put your customer in the Valentine's Day mood. Remember to double-check the photography guidelines for your category before investing too much time or money.
TIP #4: Spread the love through ads.
Running Amazon Sponsored Advertising campaigns on your product can help boost your visibility. Do your keyword research to discover which search terms will differentiate your product from the crowd. Next, increase your daily budget. This is especially true during the first two weeks of February when many Amazon shoppers will be looking for gifts.
In 2018, a National Retail Federation survey found that shoppers would buy a more expensive gift if they found a "really good sale or promotion." Use this to your advantage if you're an Amazon registered brand. Sponsored Brand advertising allows you to display customized ads on the top, bottom, and sides of the search results. These ads can draw in customers based on your holiday promotions.

TIP #5: Valentine's Day: it's not just for romance.
While you're optimizing your listings and ad campaigns, don't forget the many other ways people celebrate Valentine's Day. Galentine's Day, a day for celebrating female relationships that started as a fictional holiday on the sitcom Parks and Recreation, is now a celebration that grows more and more popular every year. Keep this in mind as you optimize your listings and ad campaigns and also as you consider products to develop for next year!
We would be remiss if we didn't mention how much we love our four-legged friends. Finder.com calculated that households will spend almost $100 on cats this Valentine's Day and just over $80 on dogs. If you're in the pet supply space, it would be smart to capitalize on this trend. Running ad campaigns and highlighting "red" or "pink" leashes and collars, or Valentine's themed treats and toys could provide an unexpected boost after a busy fourth quarter. With "National Love Your Pet Day" on February 20th, consider keeping campaigns running through this holiday as well.
Don't forget your two-legged children! "Kids valentines" accounted for just over three million searches in 2018! Use this to your advantage and help parents around the United States make their children the coolest kids in class.
Roses are red, violets are blue,
MerchantWords is here, to help you... alleviate all of your Amazon and keyword-related anxieties. We're also willing to take a stab at relationship advice, BUT you might want to leave that to the experts.
Wishing everyone a very happy Valentine's Day full of love, friendship, laughter, flowers, chocolate, and whatever else brings you joy.