MerchantWords' Keyword Collections
Store Your Keywords
Use Keyword Collections (Co) to save and curate your keyword research for listing optimization, PPC campaigns, and product research. You can easily add keywords and phrases from our Classic Tool and ASIN Plus.
Collections can be created in two different ways. The first is by using the side toolbar. Select Co, enter your collection's name, press the ADD button, and you're ready to add keywords!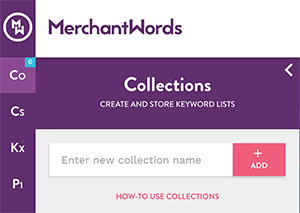 If you're already conducting keyword research, you can create a collection using the plus (+) sign in the left column of the search results. Once you've named your collection, press the CREATE button, and add individual keywords by using the plus (+) sign. You can also add keywords as a batch by using the Select All option in the header of the column.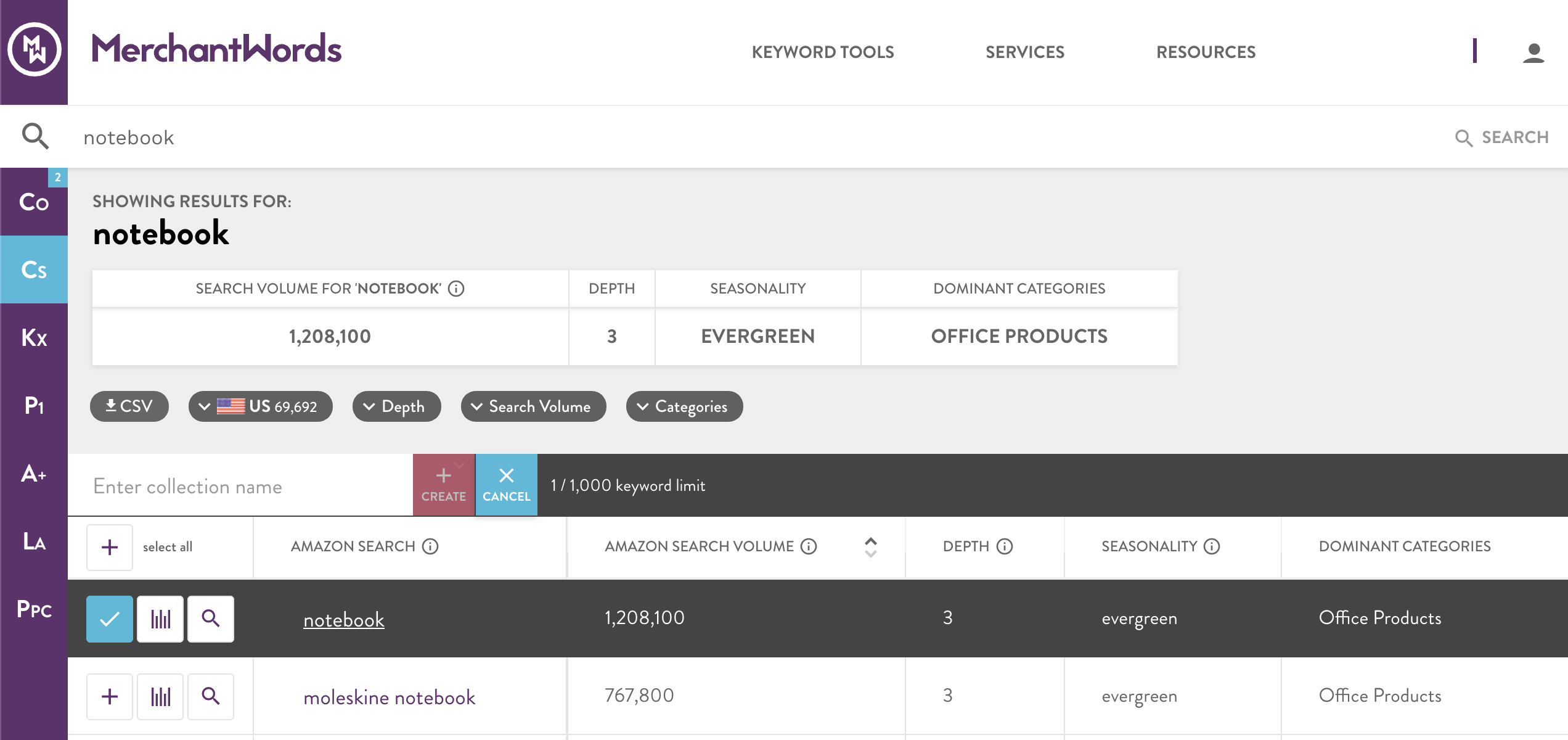 Keywords can be added to any collection, no matter which tool you're using for research, so whether you want to use Classic Search (Cs) or ASIN Plus (A+), we've got you covered. Don't worry about accidentally adding keywords multiple times – we'll automatically remove them from your list!

In your collection, you can view the keywords you stored and their corresponding search volumes.
COUNTRY
This column displays which country this keyword originates from. If you sell in multiple countries, you can differentiate between keywords and where you should place them.
DATE COLLECTED
This column records when you added each keyword phrase to your collection. It provides a frame of reference for when this keyword was relevant and allows you to compare search volumes throughout the year.

Track Your Keywords
Hit the "Refresh Search Volume" button in your collection to see the latest search volume numbers and the % change since you first saved the keyword. It's a great way to track popularity and search demand.

Don't worry! You won't use your original search volume data unless you choose to delete a specific keyword or a collection.


Use the side toolbar navigation to explore complementary keywords and find new ways to connect with customers.