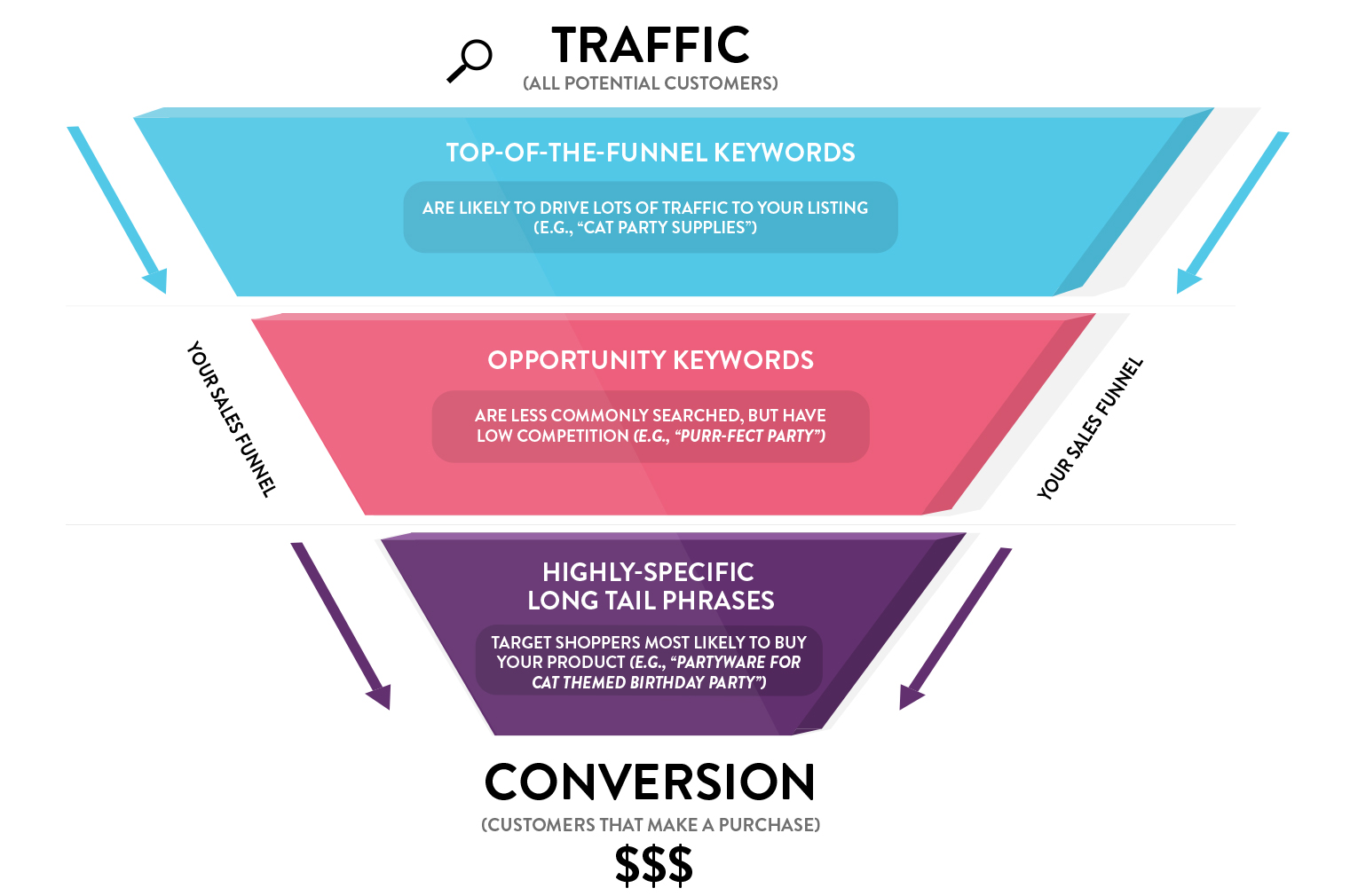 WHAT DOES A COMPLETE LISTING INCLUDE?
When you purchase a listing from MerchantWords you'll receive:
An Amazon SEO professional to perform in-depth research into your brand, product, market, and competition.

A category expert from our US-based team of skilled writers who are dedicated keyword specialists, and experienced e-commerce editors.

Personalized sales copywriting that is specific to your brand's voice and style.

A fully optimized listing that includes a handwritten title, product feature bullets, and description (text and HTML).

A complete listing that adheres to the style guidelines for your category, as well as Amazon's terms of service, including character counts, words to avoid, and more.

Customized feedback about non-copy specific elements of your listing that may be affecting the discoverability of your product.

Free Bonus #1: A complete list of backend search terms for maximum discoverability and traffic generation.

Free Bonus #2: A CSV keyword report with search terms and their estimated search volumes at the time of delivery.

Satisfaction guarantee: Have a concern about the finished product? No problem, just email us with your specific comments, and we will be happy to offer you a rewrite.
Here at MerchantWords, we measure success by the discoverability of your product listing. With Listing Advisor, an SEO expert finds the right words to drive more traffic to your product using the most up-to-date keyword research.
Implementing your newly optimized Listing Advisor listing is incredibly easy. Simply copy and paste each section from our tool straight into Seller Central and you're ready to go!

Here's an overview of each section:
PRODUCT NAME: This section is to be used as your title for your product on Amazon. Depending on your category, this title may range from 50-200 bytes. Every title has been written according to Amazon's latest best practices and guidelines. If your category recommends a shorter title, we may have provided an alternate title for your use in the Editor's note to use at your own discretion.

Our philosophy with our titles is to always utilize the most highly relevant and competitive keywords with the greatest search volume. We write titles that will connect with your customers while using the best SEO practices, such as Natural Language Processing (NLP), which is a form of Artificial Intelligence (AI) that Amazon's A9 algorithm uses when indexing every listing.

KEY PRODUCT FEATURES (BULLET POINTS): This section makes up the body of your listing, here we continue to use NLP techniques to fully optimize your listing. Amazon uses Natural Language Processing (NLP) in order to scan and index the search terms in your listing, even if they are not in sequence. NLP looks for associations between words to index your listing for every possible phrase that can be derived from the available words. Depending on your category, the content length may vary.
PRODUCT DESCRIPTION: This section is very important as it can be a great place to emphasize your product's key features, and connect with customers on an emotional level. Depending on your category, the content length may vary but is always under 2000 characters.
KEYWORDS: This section is your "backend" search terms or the terms that are not visible to the customer, but are very helpful in boosting organic traffic. To someone new to Amazon, this section can often look quite funny and varies between Seller vs. Vendor Central. If you are a vendor, make sure to let us know. We specifically select backend search terms that utilize all the word parts that make up a multitude of high search volume keyword phrases. You can imagine the exponential increase in the possible search terms when you begin to understand NLP!
KEYWORD REPORT: The keyword bundle is our way of saying thank you for using Listing Advisor in the best way we know how—with data! It is a great tool for surveying existing data surrounding your product, or for finding potential opportunity keywords for PPC campaigns. We utilize the same technology that's found in our sister service, Keyword Advisor. If you want to learn more about your report, click here for further details.
MerchantWords makes it simple and easy to access your new Listing Advisor Listing.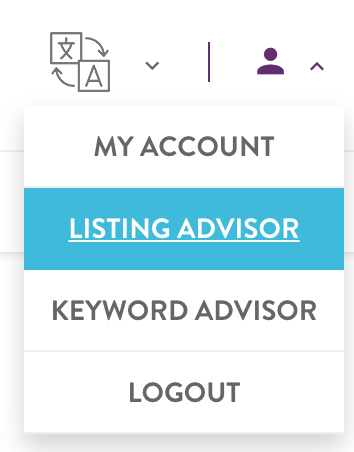 First, log in to www.merchantwords.com, using the same login information associated with your purchase.

Next, click the person icon in the upper right-hand corner and scroll to "Listing Advisor" in the dropdown menu.

On this page, you can see any outstanding Listing Advisor Requests as well as their estimated date of completion. As well as any unused Listing Advisor credits.

To access a specific listing, simply click the ASIN or Title to open. And that's it!
For further assistance, please contact us at [email protected]