Performing Keyword Searches using MerchantWords
To begin your search, enter a relevant word or phrase into the search bar under the MerchantWords logo and global navigation. To make searching for keywords easy, the search bar is at the top of every page on the MerchantWords website.
Once you click Search, the page will automatically display your search results. This is where the magic happens.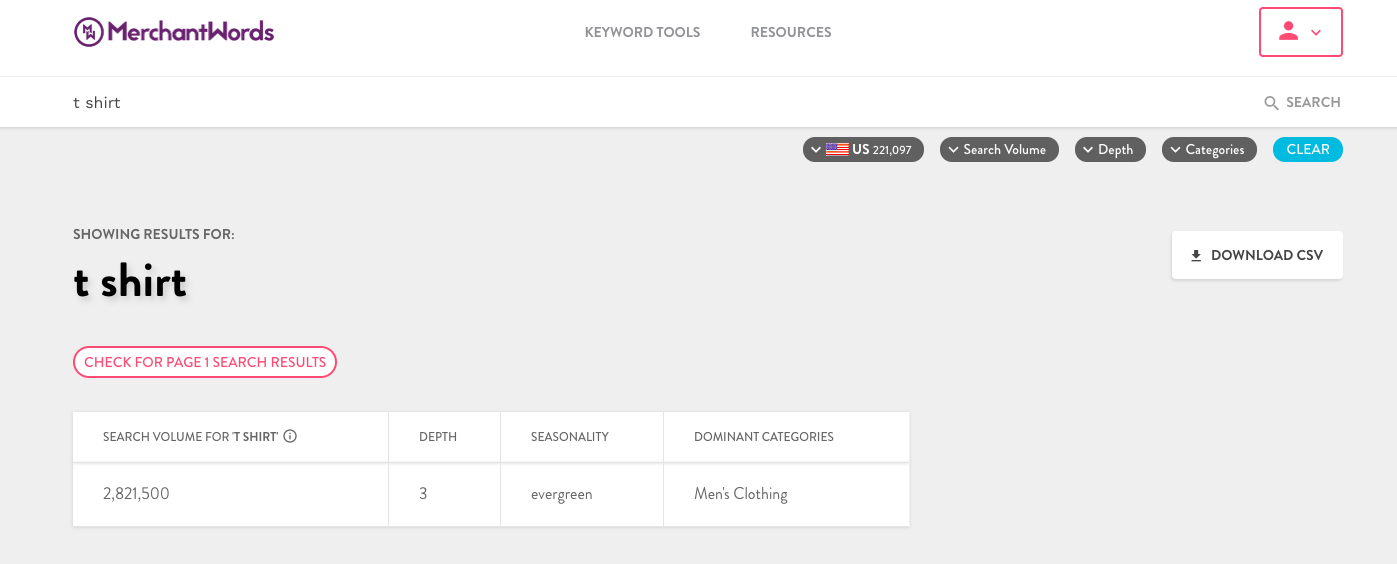 Below the search term, you'll see the search volume, depth, seasonality, and dominant categories for the first result of the exact search term you entered. We'll go into more detail on what each of these means later.

Scrolling down, you'll find a wealth of information about the keyword and the other keyword phrases from your query. You can always get the information you need about each category while you're in the platform by hovering over the ⓘ icon for a quick tooltip. We'll describe each column and how it can help you below.
Amazon Search Terms

The AMAZON SEARCH TERMS column shows the keyword results related to your original search. The standard settings for the results page will sort the highest ranking keywords in descending order. For this reason, your initial query might not be the first result that you see. For example, "baby doll" is more popular than "doll," (go figure!).
You can view the search results in a variety of ways by using the arrows in the column header or by clicking on the FILTER button in the right-hand corner of the page. From here you can sort our results in many ways. We'll go more in depth on this later.
There are other exciting features in the search column that you might not know about! Ever find a keyword that so accurately describes your product that you want to perform a search focused only on that word? Search for individual words by clicking on the hyperlinked word, and we do the heavy lifting for you. More keywords at your fingertips!
Actions

In the ACTIONS column, there are two different icons: a bar graph and a magnifying glass. The bar graph icon is only visible to Pro and Global customers, and clicking on it will display the Keyword History Analysis Panel with one year of historical data for the keyword. The magnifying glass lets you start a new search for an entire keyword phrase.
The Magnifying Glass

If you think one of the keywords would be ideal for your listing, you can start a new search for an entire keyword phrase by using the magnifying glass in the ACTIONS column. Plus, this nifty magnifying glass can help you search more than just MerchantWords.
Hovering over it will give you several different options:
Option one: Search MerchantWords. Clicking here will trigger a new search in our database for the keyword you selected.
Option two: Search Amazon. This option will open a search results page for the selected phrase directly on Amazon. You can see which listings – and how many of them – appear when the selected phrase is typed into the Amazon search bar. This feature also makes it easy to grab an ASIN for further research using our ASIN Plus database.
Option three: Search Walmart. This link opens a search results page from Walmart.com. It allows you to see how customers are searching on Walmart, what products they are searching for, and how sellers are listing their products there.
Amazon Search Volume

The next column is AMAZON SEARCH VOLUME, which gives you the estimated monthly total of overall Amazon searches per keyword.
How do we get these numbers? Our data scientists examine all the connections between the words that millions of shoppers type into the Amazon search bar every day. Our team then uses our proprietary algorithm to calculate the ranking of every single keyword or phrase. Taking into account the number of monthly Amazon shoppers and the number of times each shopper visits the site to research or shop for a product, we allocate the proportional search volume across all search phrases. Whenever Amazon changes, our algorithm does as well. We repeat this process many times every month to give you the most up-to-date information available.
Search Depth

DEPTH is the next column. This ranking indicates how many letters are required for a keyword to be suggested by autocomplete in the Amazon search bar. It demonstrates how quickly a keyword appears with 1 being the fastest a keyword can appear and 25 being the slowest.
Generally, keywords with a single-digit ranking are the more competitive top-of-the-funnel keywords. You can use this column as another way to gauge a keyword's popularity.
Seasonality

SEASONALITY is our newest column and indicates how often a keyword is searched throughout the year. Keywords can be classified as:
Evergreen: The keyword appears in searches every month.
Seasonal: The keyword has only appeared in searches during the last 3 months.
New: The keyword has just appeared in search results.
Sometimes, the seasonality of a keyword will surprise you. Prior to introducing this column, our team figured that most keywords associated with holidays would be seasonal. That isn't true! Many keywords surrounding major holidays, such as Christmas, are searched throughout the year.
This information is still in the beta phase, and we are always working to refine our results. If you notice anything out of the ordinary, please feel free to let us know via the blue Chat/Help button found in the lower right-hand corner of our website.
Dominant Categories

This is where you'll find the categories in which your search term appears most frequently. If you see this section empty, the keyword was not tagged with a particular category at the time of data collection.
Filters
You can find our filters in the upper right-hand corner of the page.

The first thing you can our data by is country.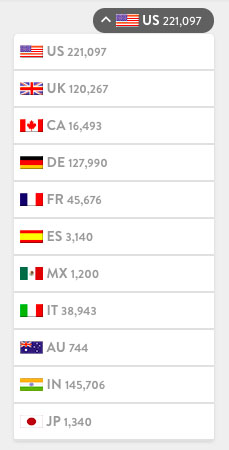 Which flags you see depends on your MerchantWords plan. Each flag represents an Amazon marketplace from which we collect keyword data: United States, United Kingdom, Canada, Germany, France, Spain, Italy, Japan, Australia, India, Mexico, with Turkey and Brazil (coming soon!).
If you sell internationally, you can easily see how shoppers in each country use different keywords. They also provide insight into how language differences impact Amazon searches.
The number beside each flag tells you how many unique keywords related to your initial search term are found in each marketplace. These totals do not represent estimated search volume, just the number of search terms in the MerchantWords database for that country.
The next filter is SEARCH VOLUME. This allows you to narrow down the keywords displayed to those that fall within your specified search volume. Want to only see top-of-the-funnel keywords, you can! Want to see only long tail keywords? It can do that too.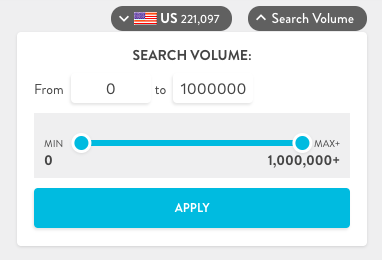 You can also filter our search results by DEPTH. Use this filter to narrow down the results by popularity in the Amazon search bar.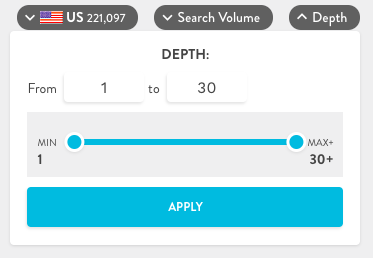 You can also search by CATEGORY! This filter can help you to determine the most relevant keywords in your category for your product.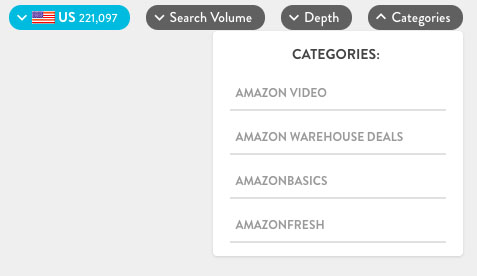 Use multiple filters at once to find keywords that meet your specific needs. You can use low depth, high volume keywords for your title and then reset the filters to find the long tail, mid-volume keywords for your product feature keywords and descriptions.
Download CSV
The DOWNLOAD CSV (comma separated values) button in the upper right-hand corner saves this data to your computer for easy access as you build your listing. Once downloaded, keywords can be further analyzed in a spreadsheet. It's important to note that we round our search volume estimates on the website for ease-of-use, so the search estimates in the CSV file may be slightly different from what you see online.
What Next?
Check out our full range of products and unlock the full potential of MerchantWords. Want to learn more about the power of MerchantWords? Take a look at these helpful links:
Getting Started
Optimization & Amazon SEO
Analyzing Performance
Researching Products
Advertising
Delving into Data Science
Taking Advantage of Amazon Disruption
We have a lot of great tutorials on YouTube and our blog is packed with tips to help you grow your business and achieve success. If you have further questions or comments, please reach out to us at [email protected] Have an awesome day!