HOW TO USE OUR AMAZON PPC PRODUCT TARGETING TOOL
Today, advertising on Amazon is a necessity in most categories in order to get your product in front of the right audience.
Why did we create the Product Targeting Tool?
MerchantWords' Product Targeting Tool (PT) helps you build a winning Amazon PPC Advertising strategy by showing you the exact Amazon listings to advertise on to get more sales.
Skip the painstaking, time-consuming research

See the top, most relevant products to target in one easy-to-use report

Save time and frustration

Increase your conversion rate
How many Product Targeting reports are included in my MerchantWords plan?
All MerchantWords legacy subscribers have access to at least 25 complimentary reports with 25 results per search.
Silver, Gold, and Platinum plans have access to more data:
The Silver Plan includes 25 reports with 1000 results per search, per plan lifetime

The Gold Plan includes 100 reports with 1000 results per search, per plan lifetime

The Platinum Plan includes 10,000 with 1000 results per search, reports per plan lifetime
How do I create an Amazon PPC Product Targeting report?
You can create a Product Targeting report for any product in the US or UK marketplaces that have been for sale for at least 30 days.
To generate a report, click on the PT button in the side toolbar, type your ASIN or ISBN into the form field and click enter. Your report will be created in less than 60 seconds.
Once your report has been created it can be accessed at any time via the side toolbar.
How do I read the results of this report?
The first thing you'll see is an overview of the product you entered.

This includes:
The marketplace (the United States or United Kingdom)

The main product image

The ASIN or ISBN (the 10-digit alphanumeric number assigned to this product) with a clickable link to ASIN Plus to see all the ranking search terms for this product.

The Product Name/Title

The PRICE, TOTAL REVIEWS, and STAR RATING at the time of data collection
Products to Target
The next section is a summary of the top Amazon listings that are the most similar or complementary to your own product.
This section includes filters that allow you to edit the full list below by Price, Reviews, or Star Rating.

The best products to advertise on are those indicated by a green number (in the filters) or green arrow on the product listing (in list view). These products can have a higher price, lower reviews, and/or a lower star rating than your own.

Products with a lower price, higher reviews, and/or a higher star rating will be displayed with a red number or arrow.

Products with the same price, same reviews, and/or the same star rating will be displayed with a yellow number or arrow.
You can reset the filters at any time by clicking on the selected button. This will display the previous results.
The additional sorting buttons above the list of products allow you to further manage your search results.

Show 10, 25, 50, or All results at once

Sort by Relevance, Price, Reviews, and Stars

View as a Table or List

Filter results by entering a particular search term into the search bar

Export the data to CSV

Copy the data
How do we determine relevance?
Results are sorted by relevance by default. Relevance is determined by the number of times a product shows up alongside your own product in Amazon's search results. The more overlapping search results, the greater the relevance score. Additionally, these products will have a higher number of shared keywords with your product.

You can view all page one keywords for each product listed by clicking on the linked ASIN above each Product Title. This will take you to our reverse ASIN lookup tool, ASIN Plus, for a more detailed view of the ranking search terms.
As you find products that present viable Amazon PPC advertising opportunities, you can select each ASIN by clicking on the gray bar on the left side of each Amazon listing. This will allow you to export these results for use in your next PPC campaign.
You can also choose to select all results ("All"), just the results you see on the screen ("Visible"), or only the results you clicked on ("Selected").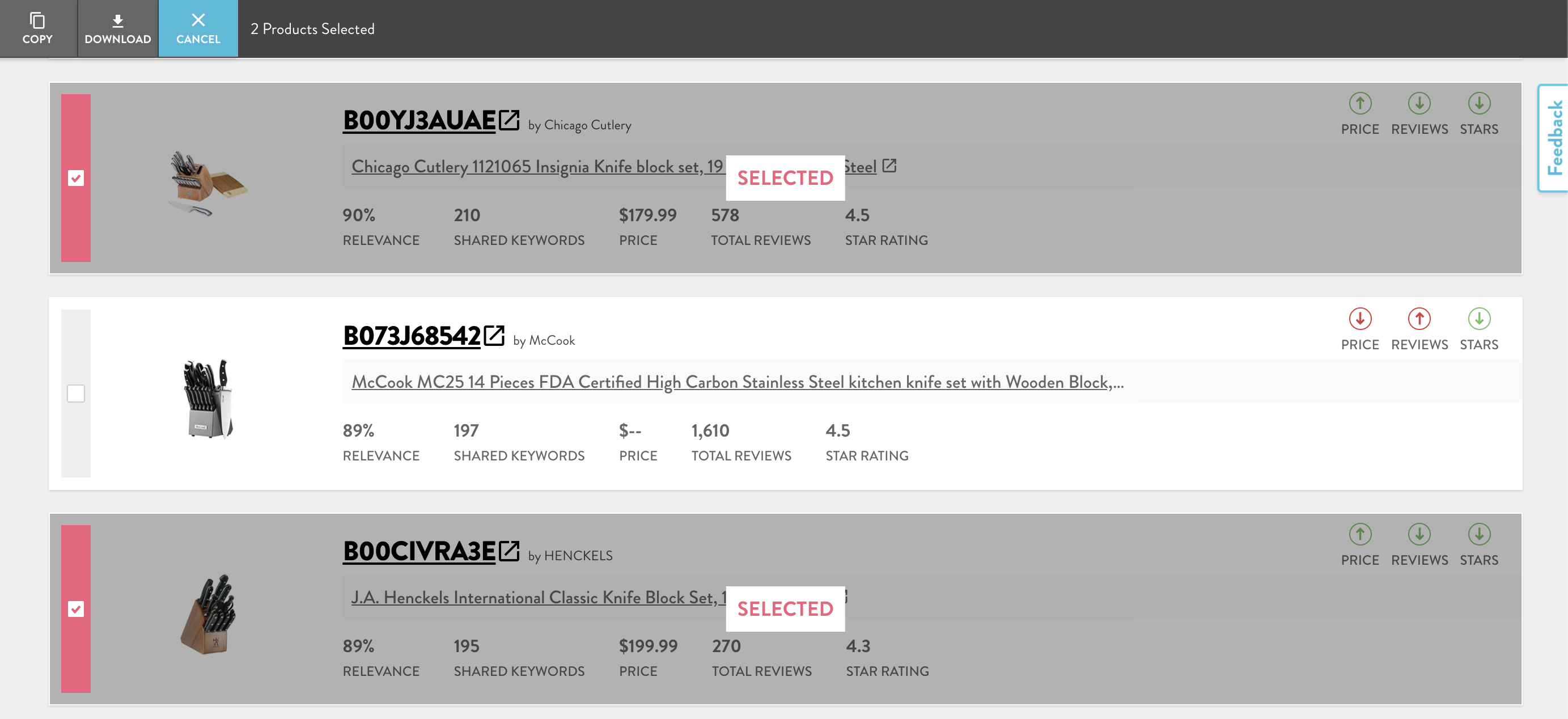 How can we help you?
Do you have additional questions or feedback? Click the blue chat button below or contact us at [email protected].